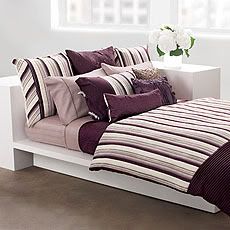 Well, actually Donna's been at my house for a while, in the form of a great go-with-everything pair of DKNY chocolate brown microfiber pointy toe boots. Not feeling the need for boots, (it is Spring after all). Then how about new sheets or bath towels?
Yes, bath towels. I was very excited to hear that Donna Karan's created a DKNY Home Collection for
Bed Bath and Beyond
. Overall,
I liked what I saw. The prices for the DKNY BB&B collection are lower than the DKNY Bedding Collection Karan designed for
Bloomingdales
and is a less girly.
I think the BB&B collection would definitely work for those Mar-Venus decorating situations. The designs are not too femme-cutesy for the guy in your life but just pretty enough to acknowledge the female side of the decorating equation. I was a little disappointed that the designs in both DKNY Home Collections are what I'd consider "safe" and not very daring or innovative. However, in these economic times most consumers are looking for home goods that are of a style that has longevity so they can dress something up or down as their tastes change. Much like the design philosophy behind those fabulous brown DKNY boots I have in my closet.
Did you enjoy this post? Get more like it by
subscribing to the Condo Blues RSS Feed
or to
Condo Blues by Email
.