I remember all to well after the movie Top Gun hit the scene that everyone, and I mean,
everyone
wanted to be like pre-jumping-like-a-psycho-on-Oprah's-couch Tom Cruise and wore aviator sunglasses. So what to do with those outdated aviator sunglasses that are gathering dust in your dresser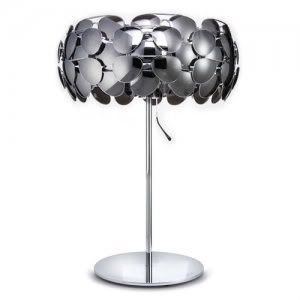 drawer? (Admit it, you have a pair laying around somewhere, don't you?) Well if you're
Deeply Madly Living
, you'll make a lamp of them. According to their website, the Celebrity Lamp
lamp shade is made of 40 pairs of mirrored aviator glasses and rests on a shiny, linear stand, featuring an amusing temple light switch.

When it is turned off, the lamp becomes an amazing silver sculpture, reflecting 80 times its surroundings. Switched on, the lenses become translucent and cast a kaleidoscope of oval shadows on the surrounding walls for a unique sophisticated ambiance.
The Celebrity lamp is available for purchase from the Deeply Madly Living Web store and retails for $1,600.00.
Did you enjoy this post? Get more like it by
subscribing to the Condo Blues RSS Feed
or to
Condo Blues by Email
.