coffee, tea, cocoa?
no thanks I'll just take the cup
which becomes a lamp
domestic construction
has an interesting take on the tea light. She makes them out of teacups!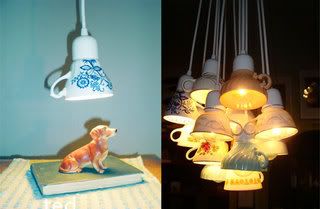 The ted light is an interesting way to hipafy Gran's old teacup collection, or for that matter, the perfect use for a set of past their design prime teacups from the 70's and 80's. Would you go for something like this for your humble abode? Why or why not?
Did you enjoy this post? Get more like it by
subscribing to the Condo Blues RSS Feed
or to
Condo Blues by Email
.