blog with few feedbacks
you like me, you really do!
Sally Field moment
From my stats, I can tell that Condo Blues has a lot of readers and a few subscribers (thank you folks!) However, I don't get a lot of feedback on what my readers like or don't like about my blog. Although increasingly I'm starting to hear this conversation with real life friends,
"Yeah, I know. I read it on your blog."
That one's kind of nice. And it's kind of weird. However, I'm getting used to it.
Then I have a day when I get some feel good feedback like this. Shelley at
The Mom with Brownies
says,
I want to tag a few of my friends who have been so supportive this past weekend. These bloggers are sweet souls who took the time to reach out to me for no other reason than to support me. They cared that I was emotionally a mess. Most of them do not know me and some have never commented here before. If you want to surround yourself with people who really care about their brothers and sisters these are the bloggers you want to have in your blog roll……They are givers. Thank you friends. :-)/div>
And gives me my very first blog award!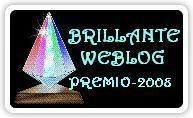 Thank you Shelley! I'm feeling a lot like Sally Field when she won her Oscar. You like me! You really like me!