You know that foreclosures and horrible housing markets are a trend when you start seeing it mocked on t-shirts and doormats. Yes, doormats.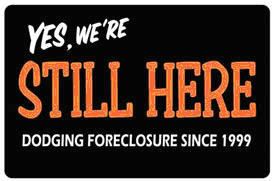 I don't want to make light of anyone's housing misfortune. In fact, we have foreclosures in my condo neighborhood, which have their own set of problems for those of us who have to live near them.
However, when faced with adversity sometimes I think the best way to get through it is to find something to laugh about or at least smirk. Like that great philosopher and cheeseburger in paradise guy
Jimmy Buffett
says, "We better laugh or we'll all go insane."
Is this a sign of the times? I wonder.
Did you enjoy this post? Get more like it by
subscribing to the Condo Blues RSS Feed
or to
Condo Blues by Email
.