Yes, I redecorated The Condo, the Virtual Condo that is – I have a new blog theme just in case you hadn't noticed, or if you're reading this post in a newsreader. In that case, I say kudos to you for setting a fine example! Let me give you a hearty pat on that back and a big
Thank You
for subscribing to my blog feed.
If you aren't a subscriber, it isn't too late. Click
Subscribe
and have every single new Condo Blues post delivered to your favorite reader, it's free, non-fatting, and not the least bit illegal!
Like most of my real life decorating and home improvement projects, I'm doing the Condo Blues blog redesign in a small series of stages. First, I uploaded and tinkered with the new template. Next, a spent a good chunk of the day creating the spiffy hammer thrown at a TV logo/graphic for my header. (Oh yes, folks I have Paying Gigs were people ask me to do layouts and graphics for them. Who knew? Well you do now.) I chose the hammer and TV graphic because sometimes, the projects that look simple home improvement 1-2-3 on TV (where they have lots of extra off camera helpers and lots more time than an ½ an hour time slot to complete,) sometimes in reality turn into home improvement 4-5-6, WTF?! Now its home improvement 10-11-12! Grrrr-aaack!
I Need Your Help
This blog is still young, only 7 months old in fact. Practically a baby in the blogging world. I have a wide range of readers and I'm not always sure if I'm serving all of you to the best of my blogging ability. So tell me dear readers, what do you like about Condo Blues, what would you want to see more of, and what do you want to see less?
On the other hand, should hang it all up and just
put Blitzkrieg into more Jib Jab videos
and post those on my blog.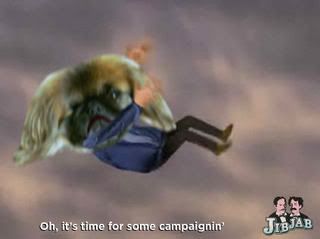 I'm trying to ask very nicely for your help. I am not trying to sound whiney or low self-esteemy. Live a comment and tell me the good, the bad, and the ugly. If you're shy and don't want your opinions made public, you can always email me at condoblues [at] gmail [dot] com. All that I ask is that your criticisms be constructive. Writing, "your blog stinks on ice!" isn't going to help me change what you don't like about my blog. It's OK to disagree as long as you're civil about it please no name-calling or hair pulling. Thanks.
*My apologies to The Spice Girls.
Did you enjoy this post? Get more like it by
subscribing to the Condo Blues RSS Feed
or to
Condo Blues by Email
.