Apartment Therapy
is one of my favorite decorating and design blogs. It's been a dream of mine to be featured along side what I think is the coolest, hippiest, and cleverest (Cleverest? I think I just made up a new word.) interior design ideas around. This week I got my wish because
Apartment Therapy's
green design page
re-nest
is featuring not just
one
, but
two
of my projects this week as part of their
Creative Reuse 2008
series.
Today
re-nest
is featuring the chandelier I made out of old wine, water, and sherry glasses.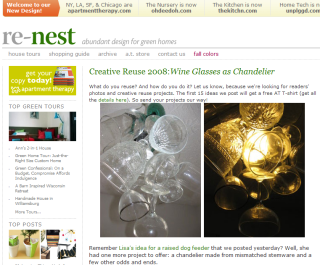 But that's not all!
Tuesday
they featured Blitzkrieg's raised dog feeder that I made from a shadowbox picture frame and napkin rings.
Apartment Therapy
said:
"This is definitely one we never would've thought of: Lisa has turned a picture
frame and some napkin rings into a raised dog feeder."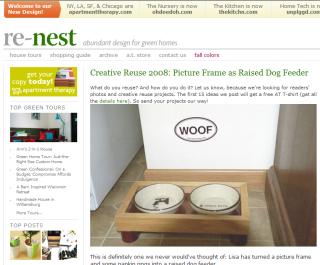 I'm so happy I could burst!
Did you enjoy this post? Get more like it by
subscribing to the Condo Blues RSS Feed
or to
Condo Blues by Email
.