My goal is to
reduce my home's natural gas and electricity use by 20%
in 2008. I also want to reduce my utilities as inexpensively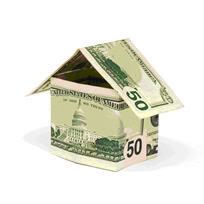 as possible. We had a mild summer and that helped keep my electrical usage low. Unfortunately we had a colder than usual October. I'm curious to see what that did to our utility usage.
October Natural Gas Usage
The Condo uses natural gas for heating, hot water, and a natural gas burning fireplace. Again, we didn't use the fireplace this summer. Normally I don't turn on the heating system until the outdoor temperatures reach 40 degrees (F). In Central Ohio that happens around mid-November. Not this year. We had a crazy cold snap with temperatures in the 40's the week before Halloween and needed to fire up the furnace several weeks early. In October 2007 we used 12 CCF of natural gas. In October 2008, we used 15 CCF of natural gas. Not too bad given the cold weather.
Then I noticed that October was one of the months that Columbia Gas estimates our gas usage. From my records, I know that they estimate our usage high. I have to admit that I haven't been keeping up with calling in my meter reads on estimate months during the summer. Therefore, I might have had a lower numbers if I didn't let summer fun get in my way of household chores. Rest assured now that we have the gas furnace running for winter, I'm going to read my gas meter and report it to my gas company on estimate months.
October Electrical Usage
I was very curious to see how much electricity The Condo used in October. We didn't run the central air conditioning much if not at all during the cool October weather. However, we did have two halogen spotlights running on a timer a six hours a night as part of our
outdoor Halloween decorations
.
Fortunately, even with the frivolity of lighting our Halloween display we still only used 404 Kwh (approximately 14 Kwh a day) of electricity in October 2008 which is less than the 469 Kwh (approximately 15 Kwh a day) of electricity we used in October 2007. Yes, I realize that I could have lowered the electrical use if I went without putting up Halloween lights. However while I want to reduce my electrical usage, I don't want to do it at the expense or all the fun we have setting up decorations for the Trick or Treaters. But I will do it with a little less because in this year, instead of setting the light timer to operate from dawn to dusk, I set it to turn on at dusk and light the display for six hours.
If you want more ideas on how you can make your home more energy efficient for winter, pop on over to
Mommy's Must Haves
where I helped Christina select and install some simple money saving home improvements.
Did you enjoy this post? Get more like it by
subscribing to the Condo Blues RSS Feed
or to
Condo Blues by Email
.