My dog Blitzkrieg has food allergies. Give him any food or treat has corn or wheat in it and I will guarantee that my dog will be so itchy that he will scratch bald spots in his fur. Poor guy!
That makes finding allergy free dog treats difficult. Fortunately, the folks at my local
Pet People pet store
know this and gave Blitzkrieg several sample packages of
Pet 'n Shape Natural Catch Dog Treats
to try.
We tried the Pet 'n Shape Natural Catch Salmon Large Bits, the White Fish Mini Bites, Shrimp Medium Bites, and Lobster Small Bites. These treats are great and Blitzkrieg wolfed them down in a heartbeat. Blitzkrieg gives them two paws up and a tail wag!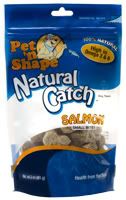 I appreciate that the Pet 'n Shape Natural Catch Dog Treats do no contain wheat, corn, or soy (all three can be allergens in some dogs), sugar (Blitzkrieg's sweet enough thank you), additives, preservatives, artificial colors, or flavors. I also like to give Blitzkrieg food and treats that contain fish oils because they make his coat shiny. In addition, fish is part of the Pekingese ancestral Asian diet.
According to their website, the Pet 'n Shape chicken treats are made with human grade ingredients. I haven't found many dog treats made with human grade ingredients, so you can bet that I'll try those next.
You can the treats directly from Pet 'n Shapes website or use the Web site to search for a local retailer.
The only downside to the Pet 'n Shape Natural Catch Dog Treats is that they are a little high in calories especially for a 12 pound dog. However, that's easily remedied by breaking the treats into smaller portions. Oh, and one other small issue: they give Blitzkrieg fish breath. Phew!
Overall, I recommend Pet 'n Shape Natural Catch Dog Treats. I like that the ingredients are healthier, even if the treats cost a little more. I think that the health benefits and piece of mind that comes from Pet 'n Shape rigorously testing their ingredients to make sure that they are bacteria and disease
prior
to the treat manufacturing process is worth paying extra. So much so that I don't mind that they give Blitzkrieg fish breath.
Disclosure:
I will use a small (as in itty bitty) commission if you make a purchase using the affliate link in this post which will help me with my goal of making Condo Blues a self hosted blog. I didn't give this product a favorable review just so you will buy it, Blitzkrieg honestly likes it and he is picky - just like his humans.