Husband and I rarely use the bike trail near The Condo. Last summer, we tried use it regularly and I quickly realized why we kept our bikes – both are Toys R Us specials - buried in the garage. Those suckers are heavy! There's
no way
I can heft my bike onto our car's bike rack by myself. We'd like to hang our bikes in our tiny garage but we're concerned that they are too heavy to wall mount.
We've discussed getting new and lighter bikes. To deal with the storage issue, I looked at some folding bikes made for apartment dwellers. Those folding bikes disappointed me. They weren't full sized bikes, didn't have speeds/gears (a problem because we have hills here), and looked like the clown car equivalent of a bicycle. Nice idea but no thanks.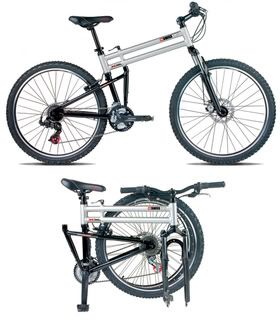 When Montague Bikes contacted me about their folding
SwissBike
, I was intrigued, but cautious because I've been disappointed before. Fortunately, a local bike shop carries SwissBikes so I went over there to look.
I wasn't disappointed.
The SwissBike doesn't look like a weird folding bicycle. Unfolded the SwissBike is a normal full size bicycle that rides like a regular bike. It offers a smooth ride with its 21-speeds, front suspension, and disc brakes. It easily folds down without any special tools and they tell me that, when folded, the SwissBike is small enough to fit under a bed or in the trunk of a car. My small space storage issues would be moot with this bike.
The frame of the SwissBike is made from aircraft grade aluminum tubing that's sturdy enough for city riding but light enough that even short wimpy out of shape me can actually pick this bike up and carry it around by myself.
The SwissBike even folds up and fits into a special shoulder bag if you want to ride it to a bus or train stop, fold up the bike, and finish your commute using public transportation. Genius!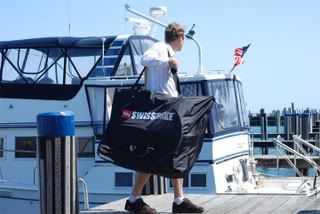 I think that the SwissBike is a bike that best suited for serious commuters or as an upgrade from your current heavy bike because it starts at $699.99. However, I think the durable and lightweight design makes this bike worth it.
If you want to buy a Swiss Bike, you can check their Website for a local dealer or you can
buy one directly from their Web site
. Montague Bikes are also kind enough to offer a discount to Condo Blues readers and will give you a free soft-sided bicycle carrying case (a $99.95 value) when you purchase a SwissBike! All you have to do is enter the code "
cblues
" at checkout.
I'm
seriously
considering a bicycle upgrade this year. Are you?
Did you enjoy this post? Get more like it by
subscribing to the Condo Blues RSS Feed
or to
Condo Blues by Email
.