This week Husband and I fulfilled a dream – we were onstage with the Broadway touring production of
Spring Awakening
. Our Broadway debut? Not quite, we sat in the on stage audience seats for the show - not acting but an unforgettable experience nonetheless!
There were a few rules that came with this amazing experience. We had to put our coats, purses, and cell phones in lockers in an offstage green room before an usher escorted us on stage. They asked us not to talk to the cast during the show, we weren't allowed to bring drinks or concessions to our seats, and they asked us not to sing along with the music. Now as a rule, I don't sing along when I'm the theater because I know that everyone, including myself, is paying to hear the professionals sing in the show. However, that one was a little difficult to follow especially during with the whirlwind of activity happening around us during
The Song That Cannot Be Named
. Fortunately, we were allowed to tap our feet, which I did – repeatedly.
Sitting in the on stage audience was a bit like watching theater in the round because while we did see the actors backs when they sang to the audience in the front of the house, many times the actors played directly to the on stage audience. Otto sang and danced to my section during one of the production numbers. Georg frequently sat next to Husband when he wasn't in a scene. Melchior bolted right past us and over the rail directly behind our seats when he broke out of the reformatory to see Wendla. Whoa.
I could see details that I could never would have seen if I were sitting in the house audience. I could clearly seeing the actor's expressions, the detail that went into the props and costumes, and my seatmates commented on how they liked how they could see the bank rocking out when they played. I geeked out when I looked up overhead and noticed that they got the glowy, moody lightening effect during the Wendla and Melchior's big,
ahem
, awakening scene using CFLs. (Consider that your enviro tip for the day.)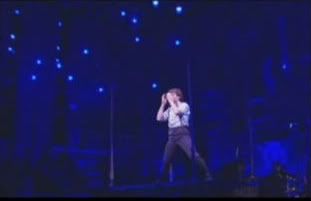 Now you may think that I paid a premium for this experience. Surprisingly no. Did I mention that Husband bought our tickets at a discount? Yeah, a discount. My fellow seatmates and I couldn't believe that we played less because we certainly would have paid a premium price for this experience. (Just don't tell the producers that, OK?)

I love how Husband bargain shops!

I'm still stoked. It's Friday. Let's 'ku.
sat on stage with cast
where is my
Equity card
?
Spring Awakening
Apparently Actor's Equity has some silly little rule that in order to join their union, you have to actually
act
on stage in a qualifying play, not just sit in the on stage audience.
Hurrumph
! Although Husband, the former professional New York stage actor, says he thinks they'd be more than happy to let us pay the dues if we wanted.
Oh and one little thing, I should remind my more conservative readers that the themes that got the original play banned in Germany in 1891 are still in the musical. If these things bother you, then you may not enjoy Spring Awakening. If you want the on stage audience experience, you might want to wait for the family friendly musical
Xandu
to go on tour instead.
Did you enjoy this post? Get more like it by
subscribing to the Condo Blues RSS Feed
or to
Condo Blues by Email
.