I have the worst luck when it comes to using public restrooms, porta potties and the like – I always seem to use them right before they are scheduled to be cleaned, which means more often than not, they've run out of soap, water, paper towels, etc. To combat this I usually stash a bottle of hand sanitizer in the glove compartment of my car during car trips and in my bag when I go to an outdoor event or just in case I have a little mishap when cleaning up after Blitzkrieg at the dog park.
Unfortunately, the alcohol in my gel hand sanitizer dries my hands out horribly. Not to mention I found that many anti bacterial products contain
triclosan
, something that I'm now wary of. I started looking for options to those times when I need to wash my hands but am not able to use good old soap and water and don't want to do it using iffy anti-bacterial chemicals. That's when I found out about
Clean Well All-Natural Hand Sanitizer
.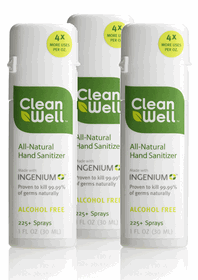 Clean Well makes alcohol and triclosan free anti bacterial hand sanitizers and foaming hand soaps that are made to kill germs using a blend of natural essential oils including thyme – an herb that has anti-bacterial properties. The Hand Sanitizers come in four scents Citrus Herb, Orange Vanilla, Spearmint Lime, and Lavender. I tried all four scents and I really like them. Husband liked them too because the scents weren't overpowering and they didn't dry his hands out either.
I think even Blitzkrieg can tell that the Clean Well products are made with real essential oils because he ran across the room wagging tail and his stuck his head right in the envelop and took a big happy sniff when I first opened the package. If that happed with my old hand sanitizer I would have freaked out, fortunately that's not the case with Clean Well because they make their products with natural, biodegradable ingredients and non toxic chemicals. Whew.
You can buy Clean Well products at Target, Whole Foods, Bath and Body Works,
Amazon
, or directly from
Clean Well
. You can use their
store finder
to find a store near you.
Clean Well All-Natural Hand Sanitizer and Antibacterial Hand Wash Giveaway - Closed
Now you have a chance to try Clean Well All Natural Sanitizer for yourself. The fine folks at Clean Well are giving you a chance to win $15.00 worth of Clean Well products!
How To Enter
Got to
http://www.cleanwelltoday.com/
and leave a comment on my blog about what product you'd like to try or a fact about Clean Well products that I haven't mentioned in my review.
You can earn extra chances to win by doing any of the following after you've visited
http://www.cleanwelltoday.com/
and made your initial comment on my blog:
1. Writing a post about my contest on your blog with a link back to
Condo Blues
.
2. Subscribe to the
Condo Blues RSS feed
.
3. Twitter about the contest with a link back to
Condo Blues
.
4. Put the Condo Blues button on the sidebar of your blog.
5. Digg this post.
6. Stumble this post.
7. Kirsty this post.
You must leave a separate comment for each method you used to enter the contest. If you choose to use every method of entry, you have up to
eight chances to win
! Please make sure that you leave a separate comment on my blog for each method of entry because I will use a random generator to select the winner. The contest will run from March 3 – March 9, 2009. This contest is open to US residents only. I will not share your email address with any third parties.
UPDATE:
Congratulations to JamericanSpice for winning the giveaway!!
Did you enjoy this post? Get more like it by
subscribing to the Condo Blues RSS Feed
or to
Condo Blues by Email
.
Disclosure:
I recieved free CleanWell sanitzer so I could conduct this review - how else could I know if it does what it says it does? CleanWell didn't pay me to say nice things about them or run this giveaway.