The
World Wildlife Fund
(WWF) asked me to help spread the word about
Earth Hour
and to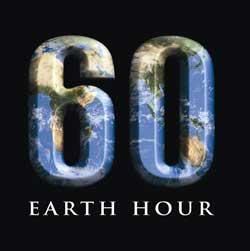 ask you if you'd like to participate. What and when is Earth Hour? Earth Hour starts at 8:30 pm on Saturday, March 28th . The WWF asks that you turn off the lights in your home for an hour as a symbolic show of support against global warming and climate change.
I had a lot of questions about the why and hows of celebrating Earth Hour. The WWF answered them best, so I'm going to use their words to give you the 411 on how to participate:
" Earth Hour 2009 takes place on March 28, 2009 at 8:30 pm—local time.



The date was set in March because it is close to the Spring Equinox, a period when
the most number of countries around the world will experience darkness in the 8
o'clock hour.



Earth Hour isn't about how much energy is saved during one hour. The idea behind Earth Hour is that by working together, each one of us can make a difference on the issue of climate change. By doing something as simple as turning off the lights, we send a visual symbol to the world's leaders that we are counting on them to work together to find solutions to climate change.



Earth Hour turns off non-essential lighting only. Lights necessary for public safety will not go out. Earth Hour has been conducted safely and without incident in more than 100 cities around the world.



Earth Hour is an inclusive event and everyone is invited to participate. WWF will provide tools online to enable any town, community, school, individual or organization to be part of the event."
Some of the activities they suggest you can do while you are participating in Earth Hour is to have a candlelit dinner or do a family game night by candle or lantern light. If you live in a warmer climate you could invite some friends over to enjoy a fire in an outdoor fire pit or play a rousing game of flashlight tag.
Me? Well, I'm pretty literal when it comes to things like this so I'm considering turning off every single light in The Condo and having an hour long make out session with Husband in the dark on the living room sofa. You know –
for the planet
.
How are you going to celebrate Earth Hour?
This post is part of
Thrifty Green Thursday
.