Is it wrong for a green leaning gal to like cars? I grew up on Ohio's great north coast – Lake Erie. Right in
The Rust Belt
. So liking cars or at least appreciating the style and specs of cars kind of creeps into you by osmosis. I haven't been to a car show since I was a kid when we'd make it a family day out.
Last week I got a chance to go to the
Columbus Auto Show
when
Ford
invited seven local bloggers/Twitterati to the show and showed us their new hybrid cars for 2010. David Finnegan (Hybrid Vehicle Manager) and Megan MacRae (PR for Ford) give us the lowdown on the hybrids and some of the more environmentally friendly features they are building into Ford's nonhybrid lines. I'm not currently in the market for a new car, but I have to say that I was impressed that Ford is going in this direction and that I have an American hybrid car to add to my short list when it does come time to start doing the research on a replacement car (which for us, is basically when stuff starts falling off of the vehicle and it dies beyond repair.)
The first car David showed us was the
Ford Fusion Hybrid
. This car got my motor running because Ford
finally
has a hybrid sedan that I could consider owning. Husband and I like to drive small cars. They are more fuel efficient and fit our small family nicely.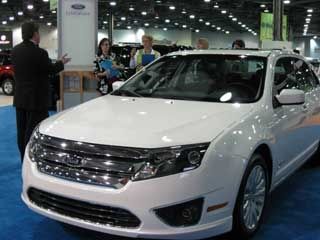 I was impressed by that the Fusion Hybrid gets killer gas mileage (39 mpg city fuel economy) and that the car's battery bank is long lasting. David assured me that if you need to the replace any of batteries in the Fusion's battery bank that you have to take it to a Ford certified shop for a replacement and so that Ford can make sure that the dead batteries are dealt with responsibly. Hurray!
Then I asked him the big question, "Does the Fusion Hybrid come with
Sync
?" Sync allows you to plug your cell phone and mp3 player into the radio and activate them by voice commands like James Bond. I first learned about it when I saw the Ford display at
The Ohio State Fair
and at that time Sync was only available on one model. Turns out, that yes, it does, in fact Sync's now standard on all Ford cars.
We also got to take a look at the
Escape Hybrid
, which is Ford's first hybrid vehicle. While I'm personally not a fan of SUVs because I'm short and driving a SUV feels more like piloting a barge than driving a car to me, I was very impressed that the Escape Hybrid's 31 mpg highway fuel economy was a tic better than my Ford Escort ZX2's* fuel economy of 30 mpg highway. So if you have a large family or a job that requires you to haul a lot of stuff around for work, you could get a hybrid SUV that gets better gas mileage and is a little gentler on the Earth than my current 4 cylinder car. Nice.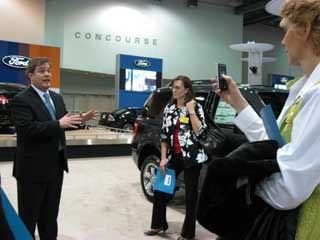 Sadly I can't report how driving either of these hybrid vehicles differs from driving a car with a conventional combustion engine because test drives weren't available to us.
So What If You Don't Want a Hybrid?
Ford has added some more environmentally friendly features to their nonhybrid vehicles too. The
Ford Taurus
,
Flex
, and
Lincoln MKS
engines are redesigned for better fuel efficiency and performance, which they call
Ecoboost
. Yes, I rolled my eyes at the term too, because it seems like I get a lot of email about environmentally friendly products that sport "eco" somewhere in the name, but right now but I'm not sure what else they could call it that would make non-enviro people sit up and take notice.
Ecoboost is an engine design which allows an engine to perform like a V-8 engine but has the fuel economy of a smaller V-6 engine. They also have an Ecoboost engine that performs like a V-6 engine but has the fuel economy of a smaller 4 cylinder engine. I'm trying not to bombard you with a lot of technical details (because I could, but this isn't
Top Gear
so I won't) or sound too much like a commercial, but from an engineering standpoint, it's pretty cool. Told you I grew up with a car loving Dad.
I also learned that seats made of soy foam, compostable seat fabric made from corn, and seat clips made from recycled water bottles are standard on Ford cars, even on the new
Mustang
!
OK, I know, the Mustang isn't a hybrid and it doesn't have an Ecoboost engine either but I still drooled over it because my Daddy raised me right.
After touring the cars Ford treated us to lunch and I got to learn a little about my fellow bloggers and their sites. Give them a visit, won't you?
Lunch was tasty and I was happy to see that the restaurant used real silverware and napkins. It took only one little thing on my part to make it a zero waste meal – drink my ice tea without the disposable plastic drinking straw.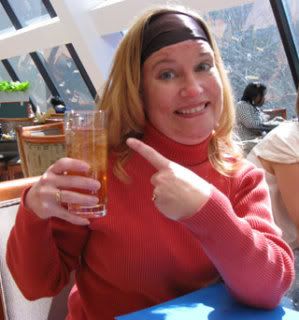 Because my Daddy raised me right.