I read about these UNCUT felt slippers on
Treehugger
and then again on
Craft
. I
suppose
it's an easy craft project for the noncrafty, and it's environmentally friendly because the slippers are made from100% natural felt, but….
I don't think I could bring myself to actually wear them.
That is
unless
one of my nieces or nephews made them for me. Then I'd have to do it or else risk losing my Most Fabulous Aunt on the Planet status.
Personally, I think I'll just stick to my not so environmentally friendly, but fun,
Freudian Slippers
until they wear out.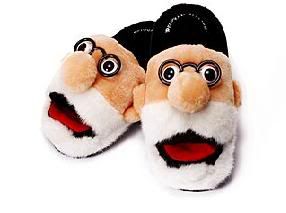 What do you think of the UNCUT felt slippers? Craft or Crap? Discuss.