I like to use liquid soap in the shower because it doesn't leave a hard to clean ring around the bathtub like traditional bar soap. The problem is that a lot of liquid soaps have some not so environmentally friendly ingredients in them. Or the ones that don't are wildly expensive or difficult to find.
What's a gal to do? Stink?
I don't think so.
Luckily Dr. Bronner's Magic Soaps, a certified Fair Trade and USDA organic soap that doesn't use synthetic foaming agents or preservatives and was once only found in health food stores is now being sold at Target an at
Dr. Bronner's
. Whoopee!
Dr. Bronner's has added new scents to their classic castile soap. I got a chance to try the
Rose
and
Citrus
soaps. I liked both. They lathered well and even a small bottle lasts a long time. Surprising since it's not a thick liquid soap. So yes, I'd definitely buy both, especially the Rose because it smells pretty and not like an old granny's apartment.
Dr. Bronner's also sent several products from their new Shikakai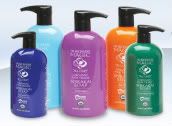 (
Shee-kah-kye
) line of
personal care products
. Both Husband and I liked the
Lemongrass Lime Shikakai soap
. The only thing I don't like about the Shikakai soaps is now Husband periodically runs around the house yelling "
SHIKAKAI
!" and changes song lyrics to include the word "
SHIKAKAI!"
during home Karaoke nights. (Although I have to admit, it
is
a fun word to say.) But this probably won't happen to you unless you're married to
a total loon
such an exuberant personality.
I tried washing my hair with both the Castile and Shikakai soaps. My hair was clean, but it felt a little like straw afterwards. I think the Dr. Bronner's people must have anticipated this because they also sent me their
Citrus Shikakai Conditional Hair Rinse
and a bottle of their
Lavender Leave In Conditioning and Light Styling Hair Crème
. After using both types of conditioners my long thick hair no longer felt straw like and both products had a pleasant scent.
I was particularly surprised that Citrus Conditioning Hair Rinse smelled so nice because undiluted it looks like miso paste. I found that it was easier to mix if I shook up a couple of capfuls of water with a capful of Conditioning Hair Rinse in a small jar to dilute it before I got in the shower rather than during it just to keep shower time a little shorter. Gotta save that water, you know.
Win Some Soap! *Closed*

I am giving away one 8 oz bottle of Dr. Bronner's Rose Castile Soap in honor of Earth Day. To enter to win this sweet smelling soap
leave a comment telling me what is one environmentally friendly change you're having a problem with implementing in your home.
Who knows, in addition to winning a bottle of Dr. Bronner's we might be able to brainstorm together and find a workable solution that I'll write about it in a later post!
You can earn extra chances to win by doing any of the following after you've made your initial
comment on my blog:
1. Write a post about my contest on your blog with a link back to
Condo Blues
.
2. Subscribe to the
Condo Blues RSS feed
.
3.
Follow Condo Blues on Twitter
.
4. Tweet about the contest on Twitter.
5. Put the Condo Blues button on the sidebar of your blog.
You must leave a separate comment for each method you used to enter the contest. If you choose to use every method of entry,
you have up to six chances to win
!
Please make sure that you leave a separate comment on my blog for each method of entry because I will use a random generator to select the winner. The contest will run from April 20 – May 3, 2009. This contest is open to US residents only. I will not share your email address with any third parties because I hate spam as much as you do. Although it's not too bad served with eggs and a side of crunchy toast.