Husband and I spent a Saturday in the
Short North
Arts District for Gallery Hop. The fun thing about Gallery Hop night is that you never
really
know what's going to happen until you get there. Often there are street vendors selling hand made jewelry or hot chocolate during the winter months, street musicians, or the occasional protest. During the last few Hops we saw an impromptu parade of Hare Krishna's chanting and drumming up and down the street!
Gallery Hop is a great excuse to go out for the evening, do date night, and recharge the creative batteries by looking at some art, and stuff for sale in the funky shops along High Street. It's a pretty cheap night out too.
Lucky for you, I brought my camera with me so I can share some of the sights.
Husband and I popped into the
Mahan Gallery
and got a big surprise. Their current exhibition is by Ric Ocasek, yes
that
Ric Ocasek
. Turns out that in addition to fronting The Cars and producing music for No Doubt and Black 47 (I knew I liked this guy!), Ric's been creating art since the 1980's.
Noise Colored Party
is his first art exhibition. I snuck a few photos of his work.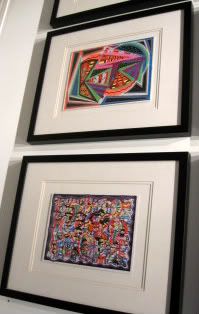 Not bad.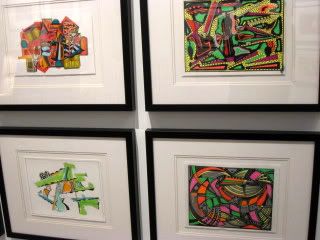 More drawings. Materials include pen and ink, colored markers and pencils.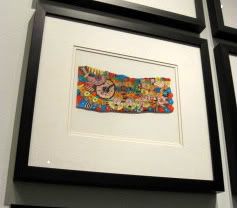 I like the nontraditional shape of this piece.
Most of shops in the Short North feature some sort of art exhibit too. These paintings are from a local artist and were on display at
Luxury Fashion & Art
, a new women's clothing store.
I kinda like the silhouetted trees and colors in the painting on the right.
Lookie what was in the window of one of the galleries. My greatest fear come to life – a Sock Monkey Chair!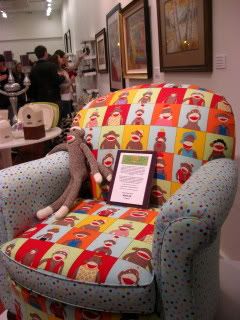 I like the playful polka dots but am still freaking because
Sock Monkeys CREEP. ME. OUT
.
There are a lot of restaurants and bars in the Short North. We play that by ear. Sometimes we go out for a drink, a meal, or sometimes we just get a coffee so we can sip and stroll while taking in the sights.
This evening it was coffee. Don't worry about the waste, we grabbed coffee and a blondie (NOM!) at Cup o' Joe, a local coffee shop that features biodegradable to go coffee cups.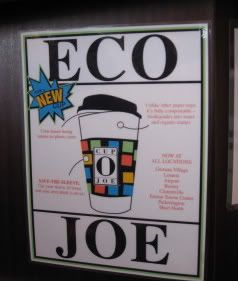 Although the caveat here is that you have to toss the corn based plastic lid in Cup O' Joe's bin so it will be composted, otherwise the lid goes off to Landfill Hell. No big, we had to pass the coffee shop on the way back to the car.
I'm sure that some of you are wigging out and will tell me what an awful person I am for not bringing my own coffee mug from home. I don't bring my to go mug to Gallery Hop because I like to travel light (small purse/no purse) and live on the edge (um, yeah, right) because that should we go to a bar or coffeehouse decision is made on the spur of the moment baby. Some nights we get wacky and don't get anything to eat or drink.
Craziness I know.
Besides if we decide that we want to pop into a bar for a drink instead of getting a coffee I doubt that a bar will let me bring/use my own coffee mug. (Will they?) Honestly I don't think I really want to either. I mean, who drinks a martini from a travel coffee mug? (Unless you're a Desperate Housewife trying to cover up the fact that you're drinking a 24 oz travel mug full of martinis during the day or at work or something. That's not really eco-savvy that's "Lady, YOU NEED AN INTERVENTION!") Please send your hate mail to condoblues [at] gmail [dot] com. Or you can just yell at me in the comments below. :)

Any thoughts? On the art? On Ric? On the freakiness of the Sock Monkey Chair? Or even on my coffee cup?