Cupcakes. Everywhere I turn I'm surrounded by cupcakes!
Renovation Therapy
makes all sorts of cupcake goodness.
Conundrum Cupcakery
features vegan cupcakes that look yummy – even to this nonvegan. Even The Naughty Secretary's Club gets into the act. Jennifer
makes kitschy earrings made out of cupcake toppers
!
I. Want. Cupcakes!
However, it's running season and Husband's in training for a 10K, which means he wouldn't participate in the cupcake love fest. I knew I'd end up eating the lion's share of the batch of cupcakes if I made them And as we all know excessive cupcake eating leads to increased ass width.
Well,
my in-laws saved my butt once again
. We invited them over for lunch. The perfect excuse to make cupcakes for dessert!
I pulled out my
Joy of Cooking
and saw them. Why go with plain old chocolate or vanilla cupcakes when these peanut butter lovelies could be baking in my oven? So make them I did.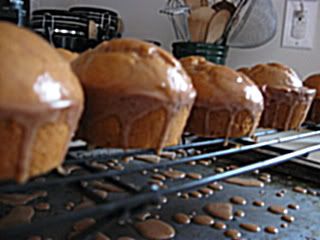 The nice thing about this recipe is that it let me use up the rest of the dwindling baking supplies I had in the pantry. Or so I thought. Husband, the chief cook in The Condo, was also on a Clean Out The Pantry Mission. Which means that in mid-recipe I found out that I didn't quite have enough of some of the ingredients to finish my peanut butter cupcakes. I had people coming over! What do to? I had to punt.
I made a second cup of brown sugar by mixing molasses with a cup of granulated white sugar. Husband said that he couldn't taste the difference. Whew!
I didn't have any cupcake liners. I greased the cupcake pan with oil and the cupcakes came out of it easily. It's also a no waste way to cupcake because you aren't throwing anything into the trash after you finish your food. Although Husband insisted that cupcake sans paper liner = muffin even if it has icing. I disagree. What do you think?
Since these were cupcakes for grownups (and I was out of brown sugar), I went with Mocha Icing, again curtsey of The Joy of Cooking. The icing was runny and didn't spread well with a knife so I just dunked the cupcakes into the bowl of icing and let them dry on a cake rake with a cookie sheet underneath to catch the icing drips. That made clean up so much easier because I just popped everything into the dishwasher once I was done.
The cupcakes came out great and I impressed Husband and my in-laws with my mad cupcake baking skillz.
Punting never made me made me feel so clever.
This post is part of
Works for Me Wednesday
.