Husband and I gathered with over 45, 000 (yes, I said
forty five thousand
that's not a typo) of our closest friends to do something important – kick breast cancer's butt. We went to the
Komen Columbus Race for the Cure
. Want to see what over forty five thousand people look like? Here's the starting line for the Race.
Here are the rest of them.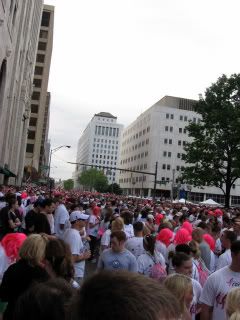 Ho.ly. Smoke.
The first group is the 5K runners, followed by the 5K walkers, followed by the folks doing the 1 mile Fun Walk. This year's race raised over 2 million dollars! We shattered the 2008 record of 40,266 participants. I'm sure it was due in no small part to this army of drag queens – Heather's Team.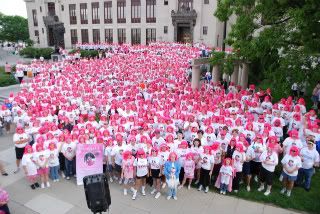 Photo Photo courtesy of
10TV
.
OK, they aren't really drag queens (although how cool would be it be if they were?!) They were a team but together by a local TV station in memory of
Heather Pick, a news anchor who lost her fight to breast cancer this year
. Heather wore a pick wig in her last TV appearance so it is fitting that her team wore one in memory of her. They were over 6,000 strong!
Husband finished the Race for the Cure
10th overall
with a time of 18:18 - a personal record for this race. I'm so proud of him!!
We do this Race because it's personal. Husband began running the Race for the Cure in Celebration of his grandmother. Husband's grandmother was a breast cancer survivor in
1969
– way before the existence of the early detection and life saving treatments we have today. Now we participate in memory of her.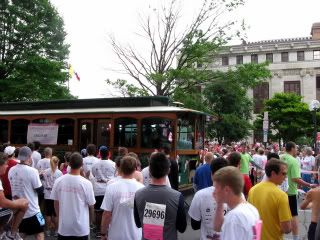 This this the Survivor's Express Trolly. All of these ladies riding it are survirors or are in treatment.
75 percent of that money stays in its 30-county service area and is used to conduct breast cancer education, screening and treatment. The other 25 percent goes to Susan G. Komen for the Cure® to fund national breast cancer research programs. The Komen Columbus Affiliate ranks in the top 10 out of 108 Susan G. Komen for the Cure® affiliates around the nation and world in race participation.
I had no idea that our Race for the Cure was so much larger than other cities! Then I look at the photos of everyone packed onto the new Race route and I think, "Um yeah. That's possible."
This year we had an extra special reason to be there. Take a look!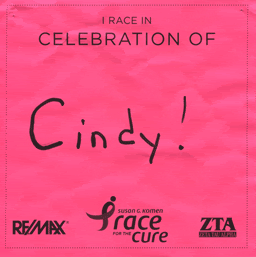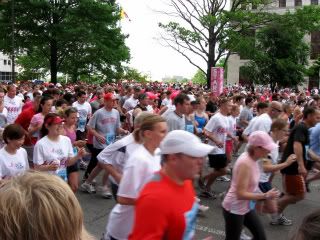 Did I mention that Husband was the 10th person to finish the Race ahead of the other 44, 990 participants? Oh, I did? Well I just want to reiterate that my guy is AWE-SOOOME! My bewbes thank him for his efforts.