Husband and his co-workers talked about taking their dogs to the office for
Take Your Dog to Work Day
. Blitzkrieg is very well behaved and would make an excellent candidate. Blitzkrieg LOVES nothing better to spend time with his people, especially Husband. The mere mention of Husband's name makes Blitzkrieg sit at attention.
I think Blitzkrieg was ready to do whatever it took to go with Husband to his work. Even if it meant getting a more Corporate America look with a haircut and a tie like Blitzkrieg sported in a William Wegman inspired photo taken when we attended Dog Day at the Wex.

Photo taken by Chet Hey, Dog Day at the Wex 2007

Sadly, there was no official word if anyone at Husband's office could participate in Take Your Dog to Work Day.
Blitzkrieg was crushed.
I told Blitzkrieg that he could come to work with me. When I have a writing gig that requires me to work from home, I need an office manager. Blitzkrieg's the right man for the job.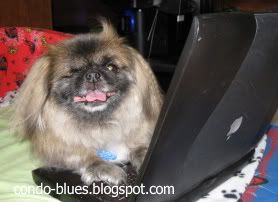 The Condo Blues Blogging Empire could use his help, it won't build itself on its own, you know?