Staycations don't have to stink! Really. I should know I'm veteran of staycations. Sometimes by my choice and sometimes the choice was made for me by outside forces, for example on my honeymoon. I had to have ankle surgery months before my wedding. I was off of crutches by my wedding day. I diligently did everything the doctor and physical therapist told me but still couldn't do a lot of walking by W–day. At the last minute Husband and I had to ditch our honeymoon plans of the Guggenheim and shopping in New York for something less walking intensive – a bed and breakfast and the
World's Largest Wheel of Real Cheese
in Ohio Amish country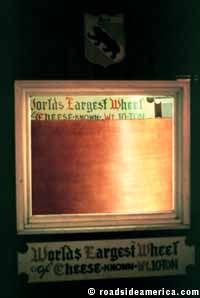 Photo courtesy of Roadside America
Romantic, no?
I learned a few things from that vacation experience:

1. Vacation fun can be had whether you're traveling far from home or staying in town. Either way vacation fun is how you make it. It really depends upon your attitude. A pity party poor-me-we-can't-take-a-big-vacation attitude is guaranteed to put a damper on your staycation fun.
2. When life hands you vacation lemons find a way to make fun of it (not of the Amish people. That's rude.) Making light of your circumstances – like checking out a few cheap and cheesy attractions you'd most likely skip over if you were visiting from out of state can go a long way in the fun department.

Since then, Husband and I have staycated by choice – right in our own city. A few summers ago with an ever growing list of "hey that looks like an interesting place" and some use them or lose them vacation day as incentive – we both took a few days off during the middle of the week to play and crossed those things off our list.
It was fun and it felt a little naughty - like playing hooky from school (not that I
never
,
ever
did such a thing!) Even better, some of those things like
visiting The Short North Arts District
and a bunch of local ethnic grocery stores (we're big foodies) we liked so much that they are now things we do regularly.

8 Ways to Have a Rockin' Stay at Home Vacation

1. Get the whole family involved in the decision. This can help you avoid the poor us pity party attitude when everyone is allowed to contribute to the decision. Sometimes the younger family members can come up with some great ideas like doing a picnic chill out afternoon at a park with a fun and different-to-them playground.
2. Decide what type of vacation you want. Lie around and relax? Lots of site seeing or activities? Fresh country air? Woods? More city? Less country?
3. Decide how far you want to travel from home. Do you want to stay in your own city or are you open to driving an hour or so for an overnight stay or day trip?
4. Set a Budget. Just like a regular traveling vacation budget is going to dictate what you do and how you do it.
-->
convenience

food
or dining out (it may not be the most nutritious food in the world but isn't that part of being on vacation?) That way the family cook doesn't get stuck doing regular life cooking chores – it's their vacation too!
6. Unplug. Make a family pact to not use the computer, video games, Twitter, Facebook, while on staycation. Its way too easy to park your butt in front of the TV or computer for a week and not get out an enjoy anything as a family.

7. Lodging. Do you want to sleep at home or not? For some folks it's really about not being home with all of life's distractions. Maybe a night or two in an in town hotel, bed and breakfast, or campground is what you need in order to relax and get away from it all that's OK. There are no rules. Do what you want - after all it's your vacation.
8. Activities. What are you going to do? Well that depends on how you like to spend your vacations.
If you're a relaxing outdoors kind of person, maybe a day (or 7) at a local beach or pool would be fun, rent a boat or canoe, go horseback riding, or camping. If the thought of an evening in the hot outdoors with bugs swarming around you doesn't appeal (or it's raining,) how about setting up a pup tent indoors and doing an indoor campout? Don't have a tent? Do one better; make one out of sheets and chairs in the living room big enough for the whole family to sleep in and your kids (or nieces and nephews) will think you are the coolest parent (or aunt) ever!

Check your city visitor's bureau. Even most small town have them. It's certainly worth your while to check in just in case a new place, festival, or activity pops up.

Check your state and other city's visitor's bureau.

If nothing in your own city looks appealing, check out visitor's centers of other major cities in your state. I did that recently and found this little Ohio gem.

The Christmas Story house lives in Cleveland

!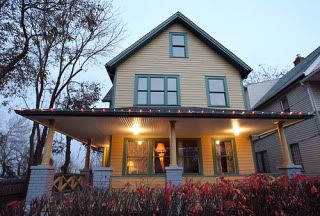 Photo courtesy of A Christmas Story House
A Christmas Story is one of my all time favorite movies. I had no idea that I lived so close to the actual house used in the movie and it is open for tours! A pilgrimage is order.
Plan it around a local festival or fair.

Especially if it's a festival you've never been to or is a little out of your comfort zone like

my trip to see the butter cow

. Maybe it could serve as an incentive to save your pennies for a big splashy vacation. For example, Husband, Blitzkrieg and I spent a weekend at the

Asian Festival

. We saw a lion dance, ate real Philippines food (not that Americanized wok in box fast food stuff), and joked that Blitzkrieg got to learn a little bit more about his Chinese heritage. (Let me tell you taking a Pekingese into the China heritage pavilion is

always

a hit!) It was an excellent incentive to start putting money away to see the real thing in person.

Buy a few souvenirs.

Personally I'm not a buying souvenirs for souvenirs sake type of gal but I'm not opposed to the idea either. Usually I'll get something useful like a t-shirt or something unusual that I can't buy at home. At the Asian Festival we bought some yummy green tea cookies from a Japanese bakery. The big bonus of doing it on staycation is that we found out that the bakery is close to our house and we can easily go there again! You can't do that with an out of state vacation (sorry

Magnolia Bakery

.)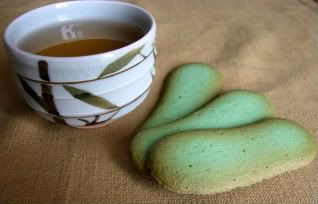 Take pictures just like you would during a regular vacation! If you're going to play tourist do it all of the way and take some pictures. The goofier the better I always say. For example, here's Blitzkrieg in a play Japanese tea house in the kids area at the Asian Festival.



If all else fails – go kitsch! No matter where we go vacation I always look it up on Roadside America and check out if there are any crazy kitschy tacky touristy things in the area. Looney things. Cheap or cheesy things. For example, on a drive about the city to find bizarre public art we found a building that looks like giant picnic basket, and a Field of Giant Concrete Corn. I only wish I had a giant stick of butter and shaker of salt to go with all of that corn…



Photo courtesy of Roadside America
Staycations like vacations can be as fun or boring as you want to make it. Have you taken a staycation? What did you do? What are your staycation tips?
Did you enjoy this post? Get more like it by
subscribing to Condo Blues
.
This post is part of
Works for Me Wednesday
.