I'm always amazed at inventors and inventions. Some of my favorite TV shows are ones where they feature the latest and greatest drooblables at industry home and garden expos. I look at some of these brilliant ideas and think, "How did they come up with that?" or "I'd totally buy/rent/borrow-and-not- return that to my neighbor!"
If you've ever had one of those "I wish I had a tool that did… and this is how it would work" moments
Craftsman Tools
is holding the contest for you. They sent me inform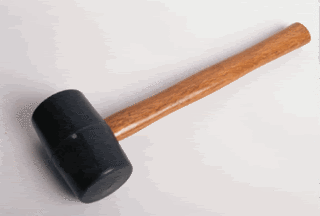 ation about their Craftsman Innovation Showcase where you can submit your ideas for a new type of hand tool, power tool, lawn & garden tool, or tool storage idea and if they like it Craftsman will make and sell your idea!
To enter you need to send a brief description (100 words or less per product) that indicates which category your idea falls into and the market need it fulfills, to Louise Chang, Craftsman Innovation Showcase Coordinator, at
lchang1@searshc.com
by July 13, 2009. You don't need a prototype to enter and you can submit as many product ideas as you like.

If Craftsman likes your idea, they'll invite to you to travel on your own dime (yeah, I know) to Sears' headquarters in Hoffman Estates, IL and register for the Innovation Showcase. There you will have 30 minutes to an hour to privately present your product idea to a panel of judges. If they like it, your product could be chosen to be put in development by Craftsman.
Pretty cool, huh?

Now only if I can come up with a new tool idea. The only thing I can think of would be some sort of magic wand that will complete any DIY project or job with a snap of my fingers when I'm too busy (or lazy) to finish it myself.

However I think we already have that. Most people call it making spouses/children/contractors do the job for you.
I guess I'm not that innovative after all.
What about you? Are you going to enter the contest? What would be your perfect tool?