This Independence Day Husband, Blitzkrieg, and I celebrated our First Amendment right (that's Freedom of Speech for all of you who flunked history) and watched the insanity that is Columbus' Forth of July Doo Dah Parade!
What's a Doo Dah?
Got me.
Seriously.
OK, for the initiated, the Doo Dah parade is whoever or whatever you can cobble together to make a float, group, or bizarre WTF? thing. It's a lot like street theater in parade form. Many of the groups/floats/I-have-no-idea-what are political or social satire. Like the Marching Fidels (yes, as in Castro) - a Doo Dah staple. They haven't let Castro's "retirement" stop them. They carried shovels and signs and chanted that that they are "Shovel Ready."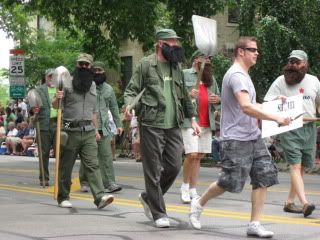 Sometimes politicians march in the parade, but if they do, they are required to wear funny hats and have something funny to say. This is State Representative Dan Stewart in a funny hat that is shaped like the Ohio State House. He marches in the Doo Dah parade with a sign that says "Got vote?"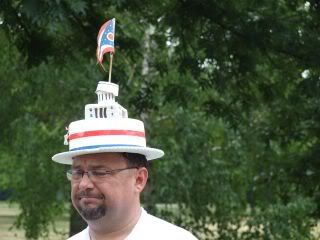 The Doo Dah disorganizers (don't look at me, that's what they call themselves) swear that marching in the Doo Dah parade cinched the election for Stewart. Who can argue? That's a mighty fine hat.
We also saw a whole bunch of art cars. This one was my favorite – a luau and art car all rolled into one! With flaming Tiki Torches on the front and a smoking Tiki God on the roof I'd get out of this car's way in a traffic jam. Wouldn't you?
Then I'd invite them over to the Condo for a barbeque.
I have no idea what the hell this was supposed to be.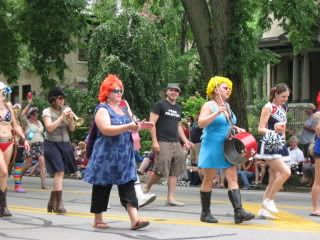 But whatever they were they were nothing short of enthusiastic. They sang Camptown Races - a lot. Loudly. And badly. Very. Badly.
This weird dude marching at the end of the parade made me take his picture.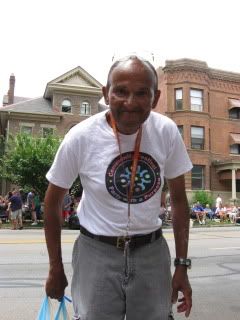 Joke's on you weird dude – I put you on the internet! Baw-hahahahahah!

You don't expect me to celebrate the birth of our nation normally now you do? Well, actually we did. Husband and I went to the big normal very patriotic 4th of July fireworks celebration – yesterday. On July 3rd. In Columbus we call that the not-quite-our-nation's-holiday-let's-make-it-a-holiday holiday. Odd? Yes, but that's how we roll in the city we call Cowtown. Mooooooo.

How you are celebrating The Fourth of July?