I'm a
4R's Superhero
. What's that you ask? It's an award that Rob of
Rob's World
gives to those who do something to repair, recycle, reuse, or reduce waste. And Rob was kind enough to bestow his award on yours truly.
Here's how Rob described his award and has some kind words to say about little ol' me (and yes, I'm blushing.)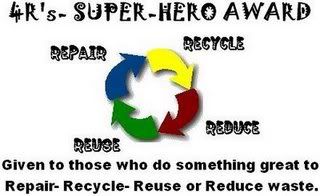 "It's time for a 4R's Superhero award. This one goes to Condo Blues. Whether it is re-using her father-in-laws scrap bricks for a flower bed border or reusing broken concrete (he/she broke the concrete themselves) for a raised flower bed, Ms. Blues and her husband work and show how to re-use building materials in the garden. And I am sure Blitzkrieg, their cute as a button dog helps with all this heavy construction going on!"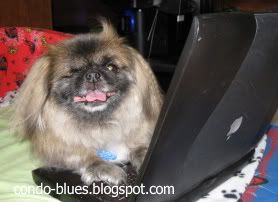 Anyone who has kind things to say about Blitzkrieg has my heart. Moreover, Rob's right. Blitzkrieg has a supervisory role in all projects Condo. Especially projects that involve making foodstuffs in the kitchen.
Rob goes on to say:
"The 4R award goes to individuals who do something great for the planet by reducing, re-using, recycling or repairing, thus keeping items out of the waste stream. Not a meme, the recipient is allowed to post the fancy logo on the website, they don't have to print anything, pass it on or divulge any secrets of their lives. Just accept the award and know in their hearts they are a "4-R
Superhero""
If you're not familiar with Rob's blog, you really should pop over and see his great DIY ideas. One of these days, I'm going to make
his DIY self watering planters
so the plants on my patio don't die a horrible dry death.
Thanks Rob!