First I'm going to start celebrating in a big way by chewing on my favorite skull and crossbones toy Mr. Squeaky.
Next, I'm sending Lisa out to hoist The Jolly Rodger! Looks much better than the football team flags our scurvy dog neighbors have flying from their yardarms.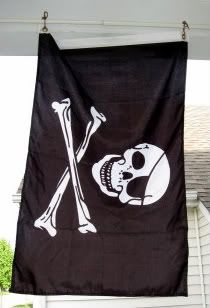 Then I'm going to put Lisa's carpentry skills to the test and have her remake The Condo into a pirate schooner so I can sail it down the streets and plunder treats from all my favorite pet stores.
And last but not least, I'm going to announce the winner of the
Feelgoodz Flip Flop giveaway
because that scallywag Lisa hasn't done it yet. I threatened to keelhaul her unless she told me the name of the winner. And the winner is…
lmkirb!
Congratulations lmkirb! You'll be sportin' some mighty fine footwear soon.
Now for the rest of ye who didn't win these fine natural rubber flip flops, don't go plannin' to swipe lmkirb's winnings.
Feelgoodz
is offering Condo Blues readers $5 off a pair of Feelgoodz flip flops! Just e-mail Martin Roth (VP of Sales) at
martinroth89 (at) gmail (dot) com
with the code
CONDOBLUES
and he'll arrange the payment and shipping particulars with ye.
So take a break from what ails you and celebrate Talk Like a Pirate Day with me. Start by repeating the Pirate Vowels and work your way up from there. Hop to it me hearties! Repeat after me,"
A
,
E
,
I
,
O
,
U
, and sometimes -
Arrrr
!"