Alice.com
is a web store where you can buy household cleaning and sundries online and have they shipped directly to your door. Their free shipping has appeal. I thought it was a great idea but I honestly doubted that I would use it.
Until now.
Husband over trained for a race and has to take it easy for a bit so his sports injury will heal. He understandably doesn't want to nor should he do the 4 shop power hop with me for groceries. It was a good time to try out Alice.com.
Alice.com the Experience
I bought a bunch of stuff (with my own money, thankyouverymuch FTC**) from Alice.com. They didn't know that I was considering writing about my experience until after I got my delivery because I asked them some questions about what I got and how I got it for this article.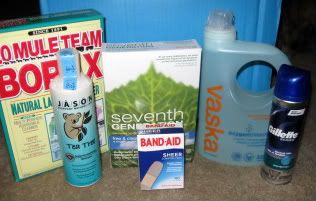 The Good
I have no hang ups about shopping online, I do it all the time. But the thought of buying cleaners on line when I can easily buy them from a nearby store felt weird at first. I guess it's because I like to flip bottles over and read ingredient labels because I'm like that. I was pleasantly surprised that this information was available on Alice for each product they sell.
You can search for products by Category and then sort by: Best Match, Alphabetical, Coupons offered, High Price, Low Price, Green/Organic (I really like this one!), Premium, Bargain Hunter (also a favorite!) You can also search for products by brand name.
If you don't see a product you want for sale, you can email them and ask them to carry it. I asked them to sell bars of laundry soap since they already carry 2 of the 3 ingredients I need to make powdered HE laundry detergent. I got an email back a few days later saying that they would consider it. Knock me over with a feather! A++ in the customer service department.
I was surprised at the number of environmentally friendly products for sale, some more mainstream, some I had not heard of before. I took the opportunity to buy a couple of items that aren't for sale at my regular grocery stores (cross fingers that I like them.)
Alice really thinks about their packaging and how the orders are shipped. The packing materials are lightweight pillows (#4 plastic) and are also made from recycled plastic (yay Alice!) Being so lightweight, the pillows cut down on the package weight and in turn reduce cost and amount of fuel needed to deliver the package. When I asked Alice about their packaging, they described it much better than I can. They said:
"When you receive your box, you'll notice we strive to ensure that our packaging not only looks good, but is good for the earth as well. Each Alice box is made of 66% recycled material and is 100% recyclable. The inks used are non-lead, water-based inks, and the air pillows inside are a sustainable packing material alternative that can be recycled repeatedly."

I'm very impressed that they use lead-free ink. Being friends with
The Smart Mama
, I'm learning that lead is in a lot of unexpected places. She makes me think. Alice makes me think. Geez, and here I thought I was just buying some borax to clean my toilet. Who knew?
You can use coupons. Husband needed shaving gel (In the interest of martial harmony this is what the guy likes; he can't be persuaded to use something a little greener, so this is what I buy.) Alice automatically applied the coupon to my purchase. Thanks for saving me .55 cents Alice!
Alice is fast. I placed my order after 9:00pm on a Thursday. Early Friday I got a confirmation email that my order shipped. It arrived on my doorstep Monday morning.
They randomly give out free samples! I was lucky to find a bag of free samples with my order. Funny thing is, I considered buying Dropps but decided against it. Now it looks like I'll get to try them out after all.
The Not so Good
You have to order at least 6 items from Alice.com at a time. It makes perfect sense, because they offer free shipping. I didn't think I needed 6 items so I asked a friend if they wanted to add a couple of things to my order. Turns out I ended up ordering 6 items for myself anyway. Oh well. (Yes, I split the free samples. I'm not greedy.)
The packaging is one of those environmental double edged swords. There are a lot of plastic bags involved in the packaging. The bottles were taped and in zippered bags. I understand why because I've had toiletries leak all over my suitcase when I fly (not fun!) This could be a concern if you don't like plastic or don't have a place to recycle the plastic pillows. This isn't an issue for me. I either reused or recycled the packing materials from my order. As always, your mileage may vary.
I can see how Alice.com comes in handy when time is short or when I don't want to go from store to store to buy all of the environmentally friendly products I'd like to try. I really wish I had Alice.com when I was a college student because lugging bags of groceries home on a city bus stinks. Will I use Alice.com again? I think I might. What about you?
**By the way FTC, I didn't get any money from Alice.com to talk about their service or from the companies or products shown in this post. My readers are smart enough to know this since I said I bought everything with my own money, but since you're busy being the Fed and all I thought I'd spell it out for you. You're welcome.