Last Saturday I went to the
Craftin' Outlaws craft fair
. It's a far cry from the doily covered craft fairs I went to as a kid with my Grandmother. Many of these artists use reclaimed materials, are a bit edgier, or artier, and the show itself was held at the Lodge Bar. Yep, shopping' for crafty things in a bar on a Saturday afternoon.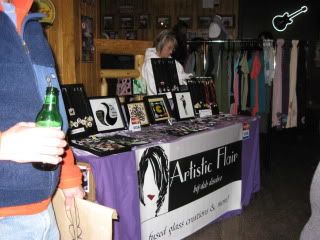 Not that I'm judging. It was one of those things that's weird and makes sense all at the same time. Especially when you find out they had a Craft Corner DeathMatch contest (Yes!
Just like the old TV show
!) during the craft fair.
Husband and I took the opportunity to do a little Christmas shopping, although quite honestly, I saw many more things I wanted to take home for myself. I'm going to be cagey about telling you what we bought because, well, I don't want to spoil the surprise for anyone on my gift list.
I have a thing for handmade jewelry. There were several jewelry artists there including
Gypsy Rabbit Industries
who does enamel work.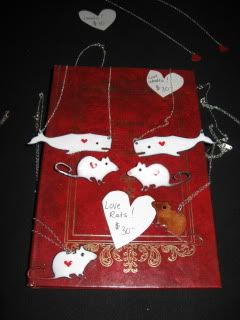 I amazed at how
Once Lost Jewelry
colleges old watch parts together into necklaces and rings. Kinda Steampunk, kinda reto/Victorian, kinda I- wish-I had-one-of-everything please.
There were a lot of vendors selling plushies of all types. I gravitated towards those who featured cute monsters. These cute little goth girls from
Tragic Stitches & Tragic Adornments
were there just in time for Halloween. My inner Wednesday Addams loves them.
Oh, there was food there too. Husband and I got a free taste of Ohio made Velvet Ice Cream from the
CD101 ice cream truck
. CD101 is our local alterative radio station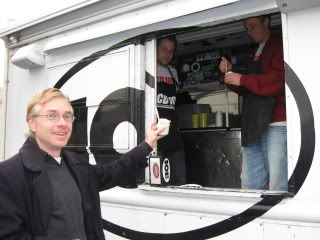 I've had vegan baked goods before and well, most have been, uh,
interesting.
Decent, but kind of dry.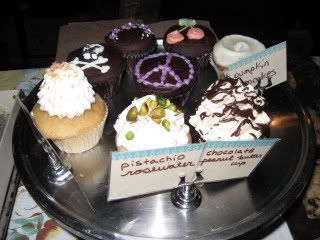 Do you realize that these little lovelies are VEGAN?!


Not these! In the interest in of wanting to
scarf down some delicious looking baked goods
help stimulate the local economy and support local businesses we bought goodies from
Pattycake Bakery
. We had no idea that the moist sugary goodness of our pumpkin whoopee pies was vegan until after we got home and checked out their Website. Vegan or no, I don't care, their stuff rocks. We WILL be back!
After inhaling our snacks we checked out the soap vendors.
Squeaky Queen
makes glycerin soaps, many with little
fun things imbedded inside like Pieces of Eight
(these make great stocking stuffers for the kiddos) and some seriously cute little top hats. Period or no, I wish I had a historical gig coming up just so I could sport one of her kicky little top hats.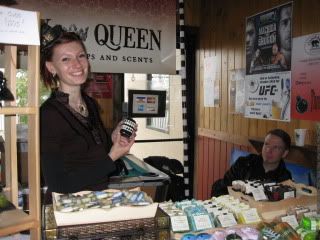 Yeah, I have a thing for hats too.
On the more subversive soap front was
Stinky Bomb Soap
.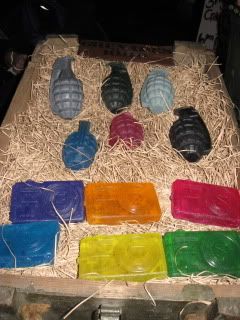 Not only do they make soap, but they also make the soap molds.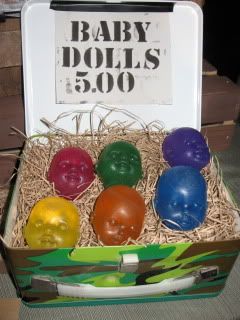 Nothing says twisted clean fun than washing up with soap molded from a baby doll head found at the thrift store!
We bought one.
There was also quite a bit of art for sale as well as craftiness. I fell in love with these
birch lamps from Kirkiture
.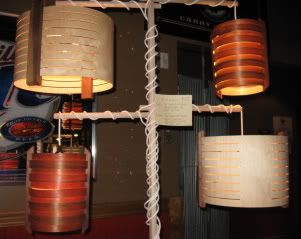 I think the drum shade may work over our kitchen table but dang it I didn't have the measurements to be certain. I grabbed his buisness card for a possible future purchase.

This piece drew me over to the
Open Door Art Studio
booth. Because hello, if there's giant monster attack, it makes perfect sense to call on giant robots to defend the city.
What I didn't know is that Open Door Art Studio is a nonprofit art studio that offers art classes for MR/DD individuals. Some of the items on sale are created in their studio and some are from local artists (most of who volunteer) on consignment to help fund the organization.
It was a great way to spend a frozen Saturday afternoon.
Did you enjoy this post? Get more like it by subscribing to the
Condo Blues RSS Feed
or
to Condo Blues by Email
.
Updated 10/26/09:
In my orginal post I incorrectly indentified who made the enamel jewlery pictured in this post.
Gypsy Rabbit
created the jewlery pictured in this post and not
Pieces of 8
as I origially wrote. My apologies.
**Neither Craftin' Outlaws nor did any of the vendors paid me or gave me things to mention them in this post.**