When I got my free review copy of Micaela Preston's book
Practically Green Your Guide to Ecofriendly Decision-Making
I devoured it in almost one sitting. Yeah, I liked it that much.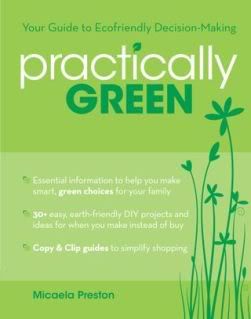 Practically Green
teaches readers how to make mindful green choices and not to get stressed out if you can't 24/7 365 days out of the year. Micaela is one of the few green authors that I'd read in awhile that acknowledges that sometimes there isn't a greenest of green answer for where you live or for what you need to do due to time, money, or location. She doesn't make you feel guilty about it either. But she does encourage and show you how to find the greener way that works for you and with the way that you live.
Practically Green
is the kind of book that I would write if I wrote a book. (That's supposed to be a compliment by the way.)
Practically Green gives many environmentally friendly options at all price points, has 30+ DIY projects, and some great recipes that can help you avoid a fast food meal or a junk food snack when time is short (try the Mexican Pizza Puffy – easy, quick and a hit when I made it for dinner!) Best of all, the book is peppered with anecdotes on the hits and sometime misses of Micaela's green living adventures. It's nice to know that a green living guru has some of those Oops moments like I do too.
I appreciate how each chapter in the book is broken down into "Buy It" and "Do It" sections because while I lean towards the DIY approach, sometimes I want to or have to go the Buy It route. The best example of this is in the Cleaning chapter. If you want to buy a greener cleaner Micaela tells you what chemicals to avoid in store bought cleaners in the Buy It section. She also offers tips on which brands of cleaners are more environmentally friendly and are more widely available. If you want to save some green and make your own cleaners, Micaela gives you an easy recipe for making your own room deodorizer spray (which I'm going to try soon) and all purpose cleaner in the Do It section.
If you're looking for a green living book that isn't preachy and offers a practical real world approach to environmentally friendly living you'll find it in
Practically Green: Your Guide to Ecofriendly Decision-Making.
Be sure to check out Micaela's blog
Mindful Momma
while you're at it!
Disclosure:
This post contain an affiliate link. If you make a purchase using the Amazon link in this post, I earn a small commission (really small) which will help me with my goal of making Condo Blues a self hosted blog at no additional cost to you. I didn't give this book a positive review so you would buy it, I honestly like this book have been scarfing every variation of the Pizza Puffy we can think of. I incourage you to buy before you buy - check if your local library has the book - mine does!