After Miss M. meet Blitzkrieg for the very first time, she sent us this masterpiece.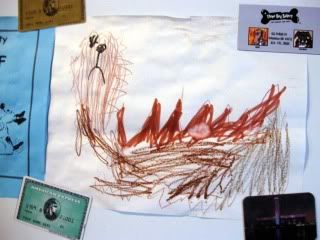 Not bad for a then 4 year old. I love how she got the divot under Blitzkrieg's nose and his sorta frowny face. Husband loves how Miss M pulled every brown color crayon and marker to make Blitzkrieg's fur. It's pretty accurate.
It hung in a proud place of honor on our refrigerator for 5 years.
If you look closely you will see that water dripped on her masterpiece and smudged it. It's wearing a bit on the edges too. Oh noes!
To preserve Miss M's masterpiece for the ages, I framed it. Then I hung on the wall in my sewing/craft/guest/Husband-stop-calling-it-a storage-room room.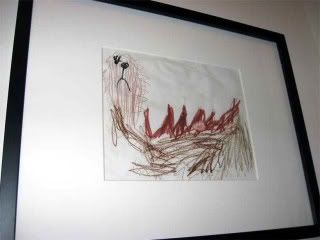 Much better. Don't you think?
If you are joining us from Something I Whipped Up Monday, Metamorphosis Monday, The Persimmon Perch, Market Yourself Monday, Made By You Monday, Make it Monday, Make it for Monday, Trash to Treasure Tuesday, DIY Day, Today's Creative Blog, Penny Pinching Party
.
The Girl Creative
,
Toot Your Horn Tuesday
,
Works for Me Wednesday
, or
Show and Tell
Welcome!