Have you noticed that pomegranate is becoming popular? Pomegranate flavored candles, soaps, even martinis have all crossed my path recently even though I've never had straight up pomegranate juice.
Being big juice drinkers, Husband and I decided to give it a try and taste tested a couple of bottles of
POM Wonderful
pomegranate juice.
POM Wonderful pomegranate is a juice I wanted to sip instead of gulp. It's a sweet juice - full boded, tangy but with a tart end note. It took a couple of sips to get used to the tangy tart taste because I expected it to be a full on sweet taste like pineapple or orange juice. Once I got used to the more complex flavor I enjoyed it.
Husband lamented that he wished he knew more about how to describe complicated wine tastes because this juice was a such an interesting mix of flavors. He's the one that described it as "full boded, tangy but with a tart end note" because all I could come up with to describe it was "really good" which isn't much of a description at all.
POM Wonderful pomegranate is a juice is strong enough to use as a mixer but it's definitely a juice. POM Wonderful has a lot of
food and drink recipes on their Web site
but Husband and I came up with our own by mixing orange juice and seltzer water with the pomegranate juice. Oh yummy yum yum yum!
POM Wonderful was also very good in homemade pomegranate martinis, BTW. I tested it because I know you'd want to know.
The Pros
POM Wonderful is 100% juice. It doesn't have added sugar, preservatives, colors, or high fructose corn syrup. I really appreciate this because it's difficult to find any flavor of juice that's 100% real juice.
They don't use imported juice or fruit. All of the pomegranates they use are grown in California.
A glass of pomegranate juice has more antioxidants than a glass of red wine, grape juice, and cranberry juice (who knew?)
The elastic and bottle tag makes a great impromptu pony tail band.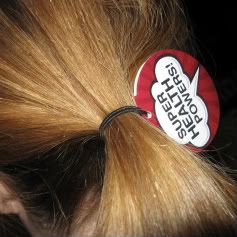 This really is the back of my head
The Cons
The caps were really hard to screw off the bottles. It may have been only the four bottles I got, but man was it frustrating! I had to wait until Husband came home to open a bottle for me.
Since it's 100% juice, it was a tad more expensive which is understandable since POM Wonderful doesn't have any filler juices like cheaper brands of various juices I've purchased.
The bottles are on the small side. I'd like the opportunity to buy it in a bigger bottle because it's a nice treat/something different to serve to guests instead of soda.
The thing I liked best is that POM Wonderful pomegranate juice made for a nice treat on an ick winter weekend when all I wanted to do was eat fatting comfort foods and scheme my way to Hawaii to escape Ohio winter until say, mid-June.
So even though POM Wonderful is a tad more expensive than other juices, it's still a cheaper pick me up than plane tickets and better for me than tator tots. In that case, it's a bargain!
FTC thingywhatis:
I received complimentary bottles of POM Wonderful pomegranate juice to test for this review because how else would I know what it tastes like? No other compensation was provided and all opinions are my own at the time of this writing.
Further disclosure:
Husband made fun of me for not being able to open my own bottle of juice. Your mileage may vary.
Even further disclosure:
I really did run around the house and even went to the store with the POM Wonderful elastic tag in my hair as a pony tail holder. In fact, I'm wearing it again in my hair as I type this review a week later.