This is what my household trash looks like every two weeks or so.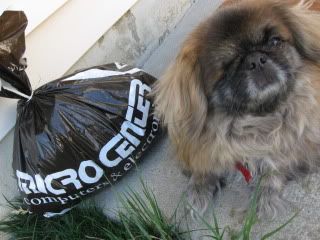 The dog isn't trash. Blitzkrieg just likes to pose for pictures.
All things being equal it usually takes my family of two plus Blitzkrieg about a month to fill up that plastic bag with things we can't compost or recycle. One thing that has made a big difference in how much trash we produce, or well, not, was the switch to reusable cloth napkins.
Really.
Now that we've been in the cloth napkin habit for several years, I really don't want to go back.
Cloth napkins are a great frugal luxury
– no trudging to the store when the weather is horrible when I run out of napkins. I just do laundry! Cloth napkins teach good manners and they reduce waste. High fives all around.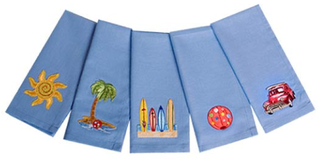 I even have cloth napkins for messy little kid visitors. For them I have something special - a fun child size napkin called Fabkins.
I reviewed Fabkins here
. It all goes with being The World's Most Fabulous Aunt (trademark pending.)
Although to be honest, since Fabkins are made to fit in a lunchbox, I use them for adult lunches too.
Earth Day is April 22nd and it's no better time to remind the kids in your life that there a lot of things they can do to make a difference. Why not start by putting a reusable cloth napkin, silverwear, or container in their - or your - lunchbox?
Don't have any kid size cloth napkins? How about winning a set?
Fabkins Child Size Cloth Napkin Giveaway! *Closed*
Fabkins has generously offered to sponsor a giveaway of four 100% cotton Polar Pals Fabkins.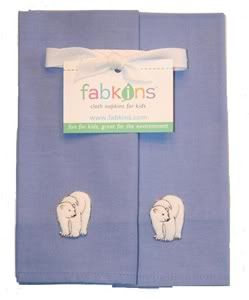 Fabkins are cut smaller than a standard size dinner napkin and designed to fit in a lunchbox and on a child's lap. I honestly wish I were eligible for this giveaway because I think the polar bear design will appeal to any home that has little kids, finicky tweens, teens, or adults. In other words, anyone who drops crumbs and packs a lunch.
To enter:
Visit
Fabkins
and leave a comment on Condo Blues telling me what other Fabkins product is your favorite.
You must leave your email address so I can contact you if you win or your entry will be disqualified
. If your email address is available via your Blogger profile that counts.
You can earn extra chances to win by doing any of the following after you've made your initial comment on my blog:
Blog about my contest with a link back to Condo Blues. Please leave the URL of your blog post so I can verify it.
Follow Condo Blues on Twitter AND tweet about the contest. Please leave your username and the URL of your tweet in your comment so I can verify it.
Put my Condo Blues button on the sidebar of your blog.
You must leave a separate comment for each method you used to enter the contest. If you choose to use every method of entry, you have up to seven chances to win!
I will use a random generator to select the winner. The Fabkins Earth Day Giveaway runs from April 5, 2010 – April 18, 2010 12 midnight EST. Good Luck!
Updated April 19, 2010:
Congratulations to the winner - Andrea!
Legal mumbo jumbo:
This contest is open to US residents only. I will not share your email information any third parties. Fabkins did not pay me to run this giveaway or say nice things about their products because I truly like them and use them. All opinions are 100% my own and longtime readers know I can be very opinionated.