Do you have a beloved public park that could use a makeover? We do. Blitzkrieg's favorite dog park is by a creek that floods every spring. Some of the agility equipment at that park is showing signs of wear and tear too. I won't let Blitzkrieg climb his beloved A frame, his favorite obstacle, because it's rickety from kids climbing on it when it's supposed to be for dogs only.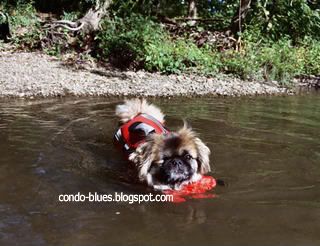 I bet I'm the only dog in the world who has to wear a life jacket in the dog park.
This park is funded and managed largely by volunteers and could use some help given the budget crunch.
You too?
Consider entering your favorite public park in the
Sears Blue Lawn and Garden Crew More Green Across America Contest
. Just submit an essay of 250 words or less nominating your public park and upload a photo of your park. Entries will be accepted from March 28 through April 16.
The Sears Blue Lawn and Garden Crew will select 10 finalists. Each finalist will be awarded a lawn and garden prize package including a new yard tractor, mower, line trimmer, edger, blower and other prizes. Pretty sweet, huh?
Beginning April 21, you can vote for which park will receive the grand prize makeover. The winning venue will receive a visit in May from the Sears Blue Lawn and Garden Crew to help you bring your project to life. How cool is that?!
For more information
check out the official contest rules
and let me know if your park is a finalist so we can vote for it!
If you have a project that's a little closer to home check out
The Sears Yard Guru
online tool that compares the Craftsman Tractors and Mowers available at Sears with those available at other retailers. I'm pretty impressed that they make comparison shopping so easy and include competing stores and brands.
And get this - Sears will price match. If you find the same or lower price on a tractor or mower with the same or more features currently available for sale at a national home improvement retailer (excluding online only offers and retailers) Sears will match the price and give you a gift card for the difference. See
sears.com/rebates
for details.
Geez Sears you really are tempting me to drive all the way across the city and through pain in the butt mall traffic to shop at your store when I don't even need a lawn mower! (Our HOA has a lawn service.) Really.
Disclosure notice:
I didn't receive any compensation from Sears or Craftsman to tell you about the contest or their rebate program. I thought both were good ideas and wanted to pass them along to you. Honest.
Further disclosure:
I really hate getting stuck in traffic.