I am having a crafty creative reuse link party and you are invited! Have you gotten a free or swag (known in the PR buiz as Stuff We All Get) item that you remade into something else because you did not want to be a walking advertisement? For example, I
added pockets to this free tote bag
I got at a pet expo and now carry it around town as my dog mommy bag.
On the other hand, maybe you made that freebie into something more useful to you because you
wanted
to be walking advertisement.
Maybe you accepted it because it is the kind of item you would get a lot of use out of just as it is. For me, that's chip bag clips. I use them to close Blitzkrieg's kibble bag, paper bags of flour in my pantry, noodles, and coffee - just about everything. Sometimes I even use them to close a bag of tortilla chips! It would be interesting to hear what you think is useful and what is not because everyone is different.
Maybe you found that swag a new home by donating it to someone in need – that is OK too. My mom wanted reusable shopping bags. I traded her my extra freebie tote bags for her hamper of plastic grocery bags to use as household trash bags because my city makes me bag it.
Both Husband and I have a Mr. Potato Head. We tatered out the nieces and nephews on holidays too. When I was very fortunate to receive a free Mr. Potato Head at BlogHer last summer, I held onto it and
donated Mr. Potato Head along with some other items we bought to Toys for Tots last Christmas.
Write a post about your swag on your blog. On Sunday, August 22, 2010 I'll put a linky up on Condo Blues and we can share in the clever craftiness, creative reuse, donations, or rants. Heck a photo of you or yours enjoying a swag item is OK too.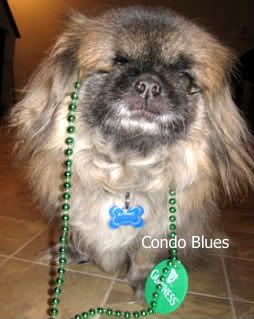 This is more silly than it is about creative reuse.
But Blitzkrieg sure looks cute, so why not?
Your post does not have to be about an item you got from a blog conference or blogger event. It can be anything, even some silly free gift with purchase item like these beads I got on St. Patrick's Day.
I made a button because I know how much you all like buttons!

I can't wait to see what you come up with!