The most difficult thing about going green is knowing where to start. Read around the blogosphere and it's overwhelming when you realize that green living touches everything you wear, live, eat, and do.
ACK!
Then once you've identified where you want to go green it can be frustrating because there seems like you're playing catch up or the suggestions are too expensive/not applicable to where you live/too I'm not going there (Hi cloth toilet paper. I'm talking to you.)
You know what? I get it. I've been there. I've looked at lists and suggestions and had many a Slam Head Here moments because my preferred green way of doing things isn't on the list or it's a seasonal practice.
That's OK.
Do It Anyway
I say, why not start with the easy stuff first? There may be some things that you already do that are already considered green!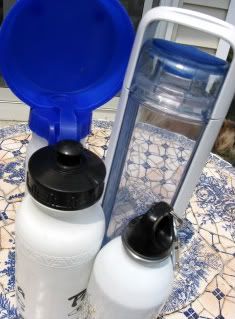 Taking reusable bottles full of water or other drinks to events means we save money on drinks as well as reducing our disposable cup/bottle use. Even Blitzkrieg has his own water bottle with a dog dish attached!
Maybe you have some habits you want to change, like eating less sweets or saving more money. It's perfectly OK to admit to doing something green because you want to save a little green too. Quite honestly, back when I was a starving college student, that is what I did and something I still do.
5 Places to Start Going Green
If you still aren't sure where to start try looking at these five areas of your life and make a list of some habits you'd like to change for the greener.
Look at your trash – What type of things are you always throwing away? Paper towels? Take out coffee cups? Can you replace any of these items with reusable options? Can you buy a larger size to reduce the amount of packaging in your bin? Can you recycle any of the items in your trash bin through your city or local businesses?
Check your utility bills – Gather your bills for the last year. Are your bills too high or just right for your family and where you live? You can take it one step further and do your own home energy audit (renters can do this too.)You might be able to lower your water, gas, electricity etc. with a few new habits and cheap home improvements.
Check your fridge – Do you lack fresh fruits and vegetables? Do you see a lot of processed or single serving food? Do you have a lot of science experiments in the back of the fridge? If so, can you adjust the way you shop or cook to include more fresh or from scratch foods? Can you freeze those leftovers or starting to get squishy fruits and vegetables before they go bad? Or maybe the answer is to buy less food at the grocery store so it won't turn in between trips.
Look around you for incentives – Do you have a city recycling program? Does your coffee shop offer discounts or extra punches on a frequent buyer card for bringing your own coffee mug? Can you save money by packing a lunch for work in reusable containers? Can you rent or barrow something instead of buying it? Can you get a tax deduction for donating used items to a charity thrift store instead of tossing them in the trash?
One Million Acts of Green – Check out Green U for ideas or add some of your own to the list. Register or connect via Facebook and for every three acts of green you complete you get one entry in the Three to Green Sweepstakes for the chance to win a $5,000 shopping spree at BuyGreen.com. The number of green little acts you can complete by October 31, 2010 only limits you. If you're looking for an incentive or ideas on where to go green, this is a very good place to start!
Don't Freak Out Over Green
The term "green" isn't regulated and means different things to different people. Sometimes there isn't a 100% green solution for everything you do. That's OK. Just pick an area and pledge to complete one little act of green. When you're done, move on to the next item on your list. Easy!
What is or was your first area or act of green? What suggestions do you have for someone who's just getting started? How do you keep from being overwhelmed?


Disclosure: Rockfish Interactive, in partnership with Cisco are compensating me for my considerable time on this project. However, my ideas, words, and opinions are my own and are not influenced by this compensation.