If you aren't aware, October is Breast Cancer Awareness Month. For as many emails and articles I've recently read about breast cancer charity programs both sponsored by public companies and private organizations, I also read as many or more calling all of it nothing but a load of pinkwashing.
What is Pinkwashing?
For the purposes of this article let's go with
Breast Cancer Action's definition of pinkwashing
:
"Pinkwasher: A company that purports to care about breast cancer by promoting a pink ribboned product, but manufactures products that are linked to the disease."
This could be something as small as a tube of lip balm that contains parabens but donates a percentage of sales to a breast cancer charity to something as large as car company making a large monetary donation because combustion engines belch toxins from their tailpipes.
Some people go as far to include any and all charity functions that are pink and/or benefit breast cancer organizations, even if they are what they say they are.
Pinkbashing
Some of the pinkbashers are true whistleblowers. Just like anything there are companies and charities that aren't what they say they are. For that reason, I always research before I donate. What percentage of the money donated will be going to fund what? Is the charity in line with what I believe? Would an outright donation of even a few dollars be more effective than buy a doodad for charity if I wouldn't normally buy that doodad to begin with?
Some people still hate on yogurt sales for charity though.
Instead of bashing the people who buy problematic pink charity products, have you considered contacting the company and asking them to make a change? That's what happened when Yoplait yogurt started it's pink lid for breast cancer promotion. Consumers wrote Yoplait and told them they didn't like that they were supporting breast cancer while their yogurt was made with milk that contained rBGH. Guess what?
Yoplait did the right thing and no longer has rBGH
. Yoplait's competitor Dannon followed suit. We all win with that one!
I Was Pinkbashed
One day I wore a scarf in my hair and went about town on my weekend errands. A woman stopped me and asked if I was a survivor. I told her I wasn't. She gave me a strange look. I got a lecture on how I was part of the pinkwashing problem and that I shouldn't represent myself as being something I'm not because I'm doing more harm than good.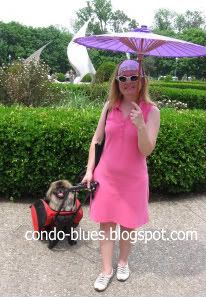 I wore this scarf because it's pretty, matches my dress, and keeps my hair out of my eyes, not because I believe it will save ta-tas.The money I helped raise at the event, THAT will help save second base.
I wasn't wearing anything that said I had the disease. In fact, the only way you'd know that my scarf had anything to do with breast cancer is if you went to that event.
What surprised me the most was the
venom
behind her words. It didn't matter that the 75% of the money the event raised stayed in Columbus and that the rest went to fund national research grants. Or that I participated in memory of someone who had breast cancer. It was pink and
part of the problem
.
That hurt.
Sometimes people need symbols like ribbons or a doodad to rally behind. Sometimes people need big splashy raise a bunch of awareness as well as money events to make us feel like we're doing something to help our loved ones when we feel powerless. Are we so jaded about the effectiveness and need for early detection and education events because they've been around since the early 90's and that
they are working
? According to the
American Cancer Society
:
"Survival from cancer continues to increase. The five-year relative survival probability for all cancers diagnosed nationally during 1999-2005 is 67%, up from 50% in 1975-1977. Survival rates are highest when cancer is detected early."
What do you think? Do you consider all breast cancer products pink washing? What do you think about the people who buy them or support charities that sell them? What if they support the cause by buying the products they normally do but they aren't good for the environment? Do you bash/educate them?