One of my favorite DIY magazines of all time,
Readymade
, is shutting its doors.
I am beyond sad.
Readymade's parent company Meredith moved Readymade's base of operations from California to their headquarters in Iowa as a cost saving measure. Well, with the economy the way that it is and people cutting discretionary spending on things like magazines; it was not enough to save Readymade.
When I found Readymade, it spoke to me and my Mid-Century Modern-Bauhaus-Contemporary-Found-and-Funkified-Retro-DaDa-Danish decorating style. Readymade was a huge influence when I started Condo Blues in 2008.
I was pleased as punch Blitzkrieg'
shadowbox raised dog feeder I built
made it into their print on demand book
The Readymade 100.
I made this!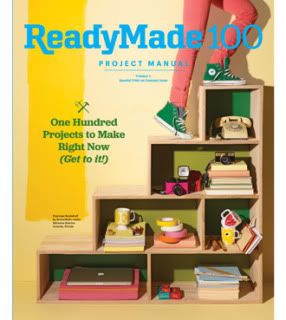 The book is back ordered so I guess somebody still reads and likes the projects Readymade collects and presents. Either that or my Mom and Father in law bought a copy for every member of their respective small towns.
I do not know what the future holds for the former Readymade team but I wish them the best of luck.
Did you enjoy this post? Get more like it by
subscribing to the Condo Blues RSS Feed
or to
Condo Blues by Email
.