z-z-z… Wha? Oh! Did I dose off? This week's challenge was to design dream kitchens in a specific style (Global, Contemporary, Industrial, or Farmhouse) and layout.
If the designs were supposed to be dreamy, I finally found a cure for my insomnia.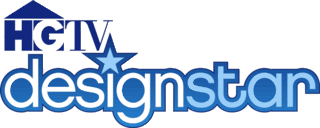 Let's be honest. It was shopping and styling challenge with backsplashes that are rarely finished as planned. The designers needed carpenters and seamstresses to customize their design elements to create true Dream Kitchens. Instead, it was the cabinets already go here, let's buy a table, slap up some paint, Cathy stages a smorgasbord, and we call it day.
Kelli and Mark's farmhouse kitchen. I'm not a farmhouse style kind of girl but this was the only kitchen out of the four that was designed rather than styled. The cage lights with Edison bulbs feel warm against the dark wood cabinets. Nicely done because it easily could have looked a little cold. As with the backsplash time crunch – which always happens on this challenge – I would have dropped it altogether on the second wall rather than go with two different backsplashes. The flooring as backsplash photographs well on TV but as someone who has vinyl flooring my kitchen (not by choice) I bet it looks cheesy in real life – a design don't.
Leslie capiz shell chandelier. Most people use this chandelier over a dining room table. Installing it over the island adds a nice textural pop and focal point. Too bad the rest of the kitchen is not as exciting as the chandelier. The judges unfairly ripped Tyler's wall treatment. It was a last minute change to try to stand out in a sea of green kitchens, which meant the color choice was less than optimal, but it least it was more interesting than slapping a coat of flat paint on a wall like all of the other not so dreamy dream kitchens. By now the judges and production most likely have their favorites and who they think will win. That's not Tyler. They found an excuse to send him home.
Cathy's camera challenge and strategy. Aha! The other reason why Cathy hasn't been sent home. The first is she creates tension and drama - she's this season's villain. As a former TV newsperson, Cathy nails the on camera challenges where the other designers are still trying to figure out what works and what does not. Trust me, it's not easy. Unfortunately, Cathy's reporter on camera style also hinders her because she comes across as cold and as not your friendly neighborhood HGTV designer.
Bossypants clearly did her homework and watched former seasons of Design Star. Karl tells the judges he disagreed with Cathy's styling and Bossypants comes back with, "This is the first time I'm hearing this!" because she's deaf to anything but her own opinion.
It's pure strategy. Cathy knew that statement would push Vern's You-Have-To-Make-Your-Voice -Heard-And-Be-A-Leader button. The other judges automatically agree when it is invoked. Boom! Karl looks bad in the eyes of the judges. This will come back to haunt him when it's time for him to go.
Paula Dean caught it and called it. "Cat fight!" Did the judges?


What Didn't Work
Kevin's kid's desk. I'm a fan of industrial. I have always loved the idea of tool chests in a kitchen. Kevin should have stuck with one. The second cabinet under the desk is clutter. Little Sassy will swing their legs into it – ouchie! - bruised knees for life. Poor Sassy.

From the styling, it looks as if Kevin and Meg had a conversation about how the judges dinged her for her dining room not looking personal enough. Kevin went overboard. A real kitchen with kids looks like that but for a design show a couple of kid pictures on the fridge would have done the trick. I like how he named the little fictional loft girl Sassy and that will be his nickname until he goes home. I will be sad to see him go.
Cathy's styling. Someone has a more is more philosophy and a few wackadoo ideas for a stager. Eggs in a clear vase can work but not sitting next to unrelated containers of oranges, lines, and mangoes. There were a few nice elements peaking out from the visual clutter. I liked the rustic wood bowl on the island. The heaping mound of roots and Chinese melons is a bad combo and looked phallic in several early shots. Someone must have noticed the shriveled green alien man parts on the table and tweaked it. I noticed they were restyled later in the episode. HGTV is a family network. HGTV is not a this is how make a family network.


Tyler's bench. I appreciate trying to add a pop of color and sizzle to the room with the bench but it competed visually with Leslie's chandelier. The scale is off for the gorgeous table. The table should have been the focal point on that side of the room, not the bench.
Next week the designer team up to stake Bossypants onto an anthill design a wedding reception. It should be interesting because I think everyone has Bossypants number by now and won't want to be treated as her subcontractors.
What did you think of the episode? What was your favorite kitchen? Was Tyler's batik wall that bad? Were Kellie's tears of frustration and fatigue or does she really miss her kids?
Did you enjoy this post? Get more like it by
subscribing to the Condo Blues RSS Feed
or to
Condo Blues by Email
.