This week the designers HGTV'd a family. At this stage in the game, the judges are honing in on the details. From my perspective, it looks like the judging criterion is going like this: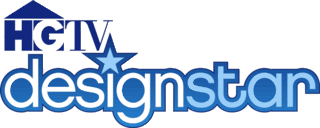 - Room details.
Items such as uneven art installations or a questionable corner in a room the family still likes are enough to get a designer bounced.
-

Camera challenges.

They treat them as extras on the show, but the camera challenges are just as important as the final designs. This is what HGTV will be selling when the winner gets their show. Finding a good designer is easy. Finding a good designer who has a great TV presence is hard. We have seen examples where they have saved a mediocre designer (Cathy) and hurt a good designer (Leslie.)
-

Body of past work.

If a designer with a strong body of past work and improving camera challenge presence fails in the current challenge, their reputation for past good work may give them another chance. I believe this is the only way Kellie survived this week after giving Mason a room that was nothing like what he asked for (poor kid.)
-

Show concept

. The winner gets his or her own HGTV show. It is time to start thinking like a TV program director when judging the final contestants. That means the show concept should be different from what HGTV already offers, the designer likable, as well as talented in design. Antonio Ballatore is the perfect example here. He is a far cry from the typical HGTV personality and design style and he has an awesome dog, named Chewie who gets screen time. Antonio had me at his first pink duck moment.
This week, it was a surprise double elimination.
I didn't think Kevin's room was as bad as judges made it out to be. I agree Sassy's space plan was not a good room to pile a bunch of people in for TV watching as the family requested. Space plans are one of Vern's buttons. The fireplace looked great but the lack of seating and odd coffee table placement was a head scratchier. The final nail in Sassy's coffin was his camera challenge, which admittedly was the most difficult camera challenge yet because homeowners are real people and unpredictable. I could tell early on that Sassy wasn't one of the judge's favorites and would go home eventually. Bye Sassy. *sniff* You can come on over to my house for
Tequila Sunrise Popsicles (get my recipe on Lazy Budget Chef)
and commiserate. Bring Leslie.
What Worked
Mark's living and dining room. Mark brings it again with reclaimed wood. Mark's rough cut dining table is Too. Die. For. Unlike Tyler, Mark has chairs the proper scale and amount to seat a large number of people around the table. I also liked his spin on the record wall in the living room. If only I could convince Husband to let me do the same thing with his old records! I'm surprised Mark didn't win this week.
Woody! Um, that didn't come out right. Oops. Photo courtesy of HGTV
Karl's bedroom – What surprised me was Karl and his bedroom. After his fit at the judge's table last week I had Karl pegged as the next to go home. Gone was last week's defensive, go through the motions designer. The new crown molding and panels under the windows were the extra wow factor this room needed. THANK YOU for hanging the curtains ABOVE the arched windows to show them off properly. That is one of my personal pet peeves. Why even have arched windows if you hang the curtain rod below the arch as Kellie did? (Bad Kellie. Bad, bad, bad.) However, based on Karl's uneven body of past work and camera challenges I don't think he's favored to win. I think he knows it. Kudos to fighting to stay as long as they let you Karl!
Meg's lantern wall – I liked the idea of the lantern wall, particularly when she hung the lanterns from distressed, reclaimed wood. While the designers had carpenters to help them in the challenge, apparently the tool truck didn't have levels because both Meg and Leslie's wall installations were crooked.
Love the lanterns. A round table might be a better choice. Photo courtesy of HGTV
Kellie's kid's room. Did you see how bummed little Mason was when he saw it wasn't the locker room with bunk beds he asked for? If you ask a kid what they want in their room, you had better deliver! Kellie did not on so many levels. Kellie's attempt at soccer lockers was so sad. She had a carpenter and could have easily had her carpenter build her a set of real lockers. Kellie opted to have her carpenter build her a loft bed instead. If that loft bed is the best Kellie can come up with I don't think she has any business designing furniture. The under bed soccer net and hide out was a decent idea but it is too low. The net barely fit under the bed and the child won't fit in the hideout once he starts to grow. The only thing saving Kellie is you can tell she is favored as a finalist by the judges/production. Very disappointing Kellie.
This room is a crime. Photo courtesy of HGTV
Leslie's kid's room. What is it with the kid's rooms this challenge? Two moms get a chance to go to town with children's bedroom and both fail miserably. At least Leslie tried to give what Kyan wanted in this room – a stage. Unfortunately, the stage was some sort of footstool that I can see a two year old jumping off at every opportunity. I agree with Vern that hula hoop stage looks homemade and not HGTV'd. That makes me wonder if the budget was not the mega big HGTV'd budget those designers have. Some of the accessories were fun like the cartoon pillows. It looked like the parents bought a bunch of cool stuff they liked for their kid and dumped it in the room - not designed. Actually, not even styled. Leslie's poor performance in the camera challenges caught up to her and sent her packing. Too bad because I think her fun personality and design style would have made her show worth watching.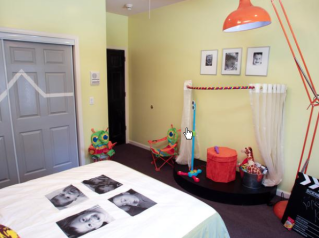 I like the giant orange lamp. Everything else? Not for a two year old. Photo courtesy of HGTV
Meg's landing – It's obvious that Meg spent most of her time on the foyer -loved the color. I question the square table. I would have lost it. I appreciate her idea of a family story/reading area on the landing. I think it might have worked a bit better with a big comfortable love seat that the family can pile onto. Meg was scared she was going home and frankly, so was I. Some of her work has been uneven but she does well in the camera challenges. It sounds like her show features more repurposing than any of the current HGTV shows, which may make her a favorite to be a finalist.
What was your favorite room? Least favorite? How sad did you feel for the kids when they saw their new rooms? Who do you think will be finalists? My current picks are Meg, Kellie, and Mark. What do you think?
Did you enjoy this post? Get more like it by
subscribing to the Condo Blues RSS Feed
or to
Condo Blues by Email
.