I know when I'm getting a good workout in when sweat trickles down my head and into my ears.
Ew.
I sweat A LOT no matter what.
So you'd think I'd be all over technical super sweat wicking workout clothing, right?
Nope.
The few technical (tech) sweat wicking shirts I have make me even hotter and sweatier. Give me a cotton t-shirt any day. It's going to be wringing wet in no time but at least it won't make me hotter than I already am during a 20 mile bike ride.
Husband on the other hand, is all over the tech shirt. He likes to wear them when running and working out at the gym. Not so much when out and about because shiny tech shirts look weird outside of the gym.
Jockey
thinks Husband and I are great candidates to review their new staycool clothing.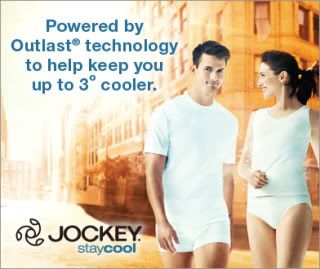 What's the deelio with Jockey staycool clothing? Staycool products are supposed to keep you three degrees cooler due to special Thermocules (they call the whole shebang Outlast technology) Jockey developed to absorb excess heat to maintain your optimal external body temperature. AKA: Keep you from getting hot like a sweaty pig.
Outlast technology was originally developed for NASA. According to Jockey, Outlast technology has demonstrated its temperature regulation for more than 20 years and is a Certified Space Technology. That makes Jockey staycool Space Panties in my book.
The chance to try Space Panties?!
How can I pass that up?!
And heck yeah I'm bringing Husband along for the ride!
Both of us were skeptical that a shirt could keep us cooler than our preferred workout gear while sweating and working out.
Both of us were surprised that the Jockey staycool clothing kept us cooler during workouts and during the summer heat wave. And let me tell you I did several days of switching between a cotton shirt and a staycool shirt while completing similar DIY projects in the crazy hot heat to make sure I wasn't dazzled by the thought of free Space Panties and that the clothing worked as Jockey claimed.
Pros
Both Husband and I commented to each other that we liked how after the first wash the staycool shirts look like regular cotton t shirts even though they are a cotton spandex blend. Not so with the tech shirts. Tech shirts look shiny and weird no matter how many times you wash them.
Both of the women's staycool shirts are reversible. I like this because it gives me more styling options. I ended up wearing the staycool shirts just as often as for play as I did when working out during the test period.
Unlike technical workout clothing, you can wash staycool products with regular detergent and use fabric softener if you like and not comprise the staycoolness or sweat wickingness of the garment. Even Husband gave that a thumbs up and he is not even allowed to do our laundry. Husband has a genetic anomaly that prevents him from reading care labels.
Unlike other sweat wicking technical clothing, you can put staycool products in the dryer and it will not comprise the staycoolness or sweat wickingness of the garment.
The women's panties don't ride up when working out. The riding up thing can be a problem when I'm riding my bike.
Wearing astronaut underwear has better geek street cred than drinking Tang or eating astronaut ice cream. I wanted to be an astronaut when I was a kid so I'm geeking out about wearing astronaut clothes. I geeked out even harder touring the Smithsonian Air and Space Museum while wearing my very own Certified Space Technology. Whoo!
Cons
You cannot use chlorine bleach with staycool products. This isn't a deal breaker for me because I use hydrogen peroxide (oxygen) bleach. A little soak in water, oxygen bleach, and borax got coffee and mustard stains out of Husband's white staycool shirt beautifully.
Husband would like the men's staycool shirts to come in more coolers besides black and white because he started wearing the staycool shirt for play as well as for workouts too.
Jockey doesn't make a staycool bra. I hope they will introduce one in the future because the girls get sweaty during a workout yo.
Husband says that the men's Space Panty briefs are fine for working out in the gym and sports like basketball. However, runners don't like the extra leg fabric of a boxer brief. A high cut brief would be great for runners like Husband, who often runs shirtless in the summer (ROWR!) and really needs the staycool properties of a brief.
Overall Husband and I like the staycool products and not because we got them free to facilitate the review.
The Jockey staycool clothing did what they claim and kept both Husband and I cooler than our comparison shirts during workouts, DIYing, and at play. We like the staycool clothing so much that the staycool products were the preferred thing both of us wore if even we weren't working out during this stinking summer heat wave. In fact, we both of us packed staycool shirts to wear when sightseeing during a recent trip to Washington DC. They didn't look weird or out of place when we wore them around town.
Jockey staycool Giveaway
Jockey has graciously sponsored a giveaway of your choice of one top and one bottom of Jockey staycool clothing. I will use a random number generator to select THREE WINNERS. Guys, you can get in on this giveaway too!
To enter (mandatory):
1. Leave a comment and tell me why you want to try Jockey staycool clothing.
After the mandatory entry, you may do any of the following for extra chances to win:
2. Blog about my contest with a link back to Condo Blues. Please leave the URL of your blog post so I can verify it.
5.
Follow Condo Blues on Twitter
AND tweet about the contest. Please leave your user name and the URL of your tweet in your comment so I can verify it.
7. Subscribe to the
RSS feed
OR via
email
to my food blog
Lazy Budget Chef
. (this one is a subscribe to one or the other type of Lazy Budget Chef feed.)
You must leave a separate comment for each method you used to enter the
Jockey staycool Giveaway
! If you choose to use every method of entry, you have up to
seven chances to win
!
The Jockey staycool Giveaway runs from August 9, 2011 – August 16, 2011 midnight EST. The giveaway is open to US residents only. I will use a random number generator to select the three winners of the giveaway.
Good Luck!
Disclosure: Jockey sent us samples of their staycool clothing to facilitate this review. All opinions are our own. Long term readers know I am highly opinionated and that goes triple for my husband.
Did you enjoy this post? Get more like it by
subscribing to the Condo Blues RSS Feed
or to
Condo Blues by Email
.