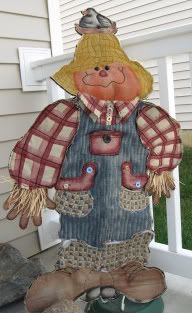 According to the calendar, it's officially fall! I rushed the season a bit by putting up my fall drop cloth house flag and orange drop cloth garland a few weeks early.
In my defense, it was part of a not so clever ruse. I had houseguests and wanted to pull their focus from the end of season garden (think plants ready to take the big winter dirt nap.) I am not sure how well it worked but the porch projects kept me busy and out of trouble, which is a double, win for the city at large.
Although I might be tapped out of fall and Halloween ideas for a while. Oopsie.
I bet you have some very clever fall and Halloween ideas up your collective sleeves Wanna share them with the rest of us?
Please?
Fall Fun & Howling Halloween Link Party October 5, 2012. Your post does not have to be a new post since we are doing this on the first Friday of October; a post from last season works too.
If you do not celebrate Halloween that's not a problem. Anything related to fall is welcome like food preservation, recipes (it is pumpkin season baby!), or something magnificent that you do every fall and I cannot even begin to imagine (but would love to read about it.)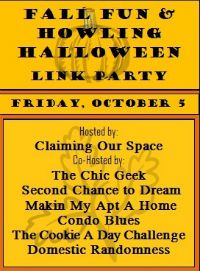 This is a great opportunity to introduce your blog to a new audience because after you enter the link to your fall or Halloween post on
Claiming Our Space
, the linky will also appear on the blogs of the six link party co-hosts including right here on Condo Blues!
Kristina is hosting the party along with these lovely co-hostesses with the co-mostesses:
I like to think of this as being able to introduce your wonderful blogs that I read and love with the readers of six other blogs readers who may not know about them. You guys and gals have been so good to Husband and I, I want to share the love.
I hope to see you October 5th!
Did you enjoy this post? Get more like it by
subscribing to the Condo Blues RSS Feed
or to
Condo Blues by Email
.