A fireplace wasn't a Must Have when Husband and I house shopped but I secretly hoped our first home would have a fireplace. We lucked out when we found our Condo. It has everything on our Must Have and Wish Lists including a fireplace.
I still like the fireplace but I'm falling out of love with the brass accents. I would
love
to use the brass as an excuse to buy a new brass free gas fireplace with a clear rock insert that makes it look like fire and ice when you light a fire.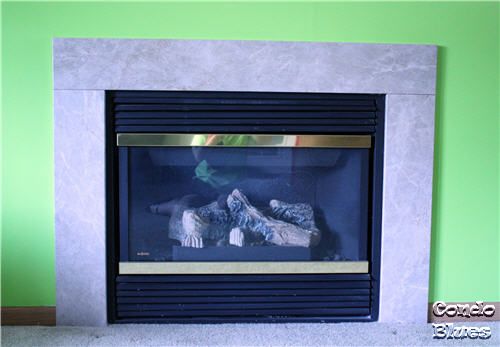 Fireplace Before
However, I can't justify the resources and expense it takes to replace a fireplace we rarely use. Angie of
Country Chic Cottage
 and Cara of
Moore Craft Time
 issued a Craft Lightening challenge – to make something that takes 15 minutes or less, excluding the drying time for paint or glue.
I looked at my
2012 DIY Goal List
and took them up on the challenge. It's time for a quick and easy fireplace update.
How to Paint a Gas Fireplace