Almost every blog post I read that offers tips and tricks how to live Zero Waste they almost always use plastic free as a synonym. They say something like, "We got rid of all of our plastic stuff and bought the same exact thing in wood/bamboo/natural fiber to replace it and wow how cool we are living zero waste now!"
It. Drives. Me. Crazy.
Throwing away usable items to buy a cool looking replacement is
the exact opposite of zero waste living
folks!
Zero waste living means
giving up using disposable single use plastic
and items as much as possible,
not no plastic at all.
Plastic free is great but that is a different goal
.
6 Easy Ways to Live Zero Waste (ish) and Save Money Doing It!
Pin this post to your Pinterest boards for laster! Share it with your friends!
Reducing the amount of items in your landfill trash can and city recycling bin is not just for wealthy hippie hipsters, which is often what Instagram and Pinterest lead you to believe.
In fact, many people refuse to buy disposable items because they'd rather not spend their money on it. But doing so to also save money by circumstances or choice isn't as a lofty goal so the Zero Waste Elite dismiss it. *sigh*
In fact, by carefully shopping, repurposing, and yes sometimes choosing an item in a plastic container I can recycle verses a wrapping I can't, over time I reduced my student debt to zero and home's weekly trash to approximately one grocery sized bag a week. Some consider this Zero Waste but I do not. I consider us a low waste household but that doesn't sound as sexy to the Internet as Zero Waste.
And before you think I'm going to go on and on about fill your own container stores I'm not. I think they are cool but are against my local health department rules. I primarily grocery shop at Trader Joe's and Aldi. Two stores that are notorious for extras packaging.
1. I shave with
this exact plastic zero waste electric woman's razor
and never have to buy or throw away a razor blade again.
Where I live metal safety razor blades are considered Sharps and
cannot be recycled
as most people claim. Also I hate safety razors with a passion and scars from using one. My husband has sensitive skin and safety razor trauma as well.He shaves with a
razor similar to this one
that uses
multi blade razor blade cartridges like these
and is able to make one blade last almost all year long by sharpening it with
this disposable razor blade sharpener
after each use which makes less wasteful than the safety blade option. The price per shave is cheaper than the safety razor too. My husband uses
shaving soap like this
that lasts forever instead of multiple cans of shaving cream. (Disclosure: I am including affiliate links to the products that I like and use for your convenience.)
2. Reusable plastic water bottles and travel coffee mugs
– In the beginning they were generally free promotional items from work (massive student debt, remember?) and because I'd rather have liquids
in
me than
on
me when I'm in the car and the bonus of free water refills at public fountains discounts at coffee shops. When we need to carry more water during road trips with the dog and when my husband runs we use a repurposed milk jug with a
Jug Hugger (learn more about it here)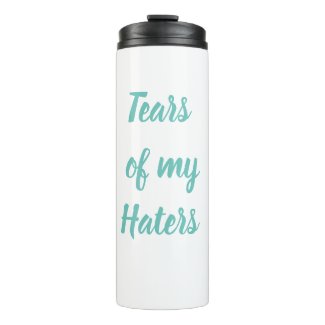 I eventually upgraded to a double walled stainless steel travel mug because it keeps my drinks hot longer than plastic. Then I made this
Tears of My Haters Stainless Steel Travel Thermal Tumbler
for bad mood days. Click to learn more
Click to learn more on my store LNWCreativeGifts
And it should go without saying but you can fill it with a beverage from a large container in your refrigerator if you don't feel like drinking water.
3. Buying items in a plastic container that lasts longer, I can reuse/repurpose for something else, or recycle.
I'd rather have one plastic version in my bin than a dozen small glass bottles of the same thing over a short period of time (your mileage may vary.) Some examples are:
- Shampoo and Conditioner in liter bottles – Budget Tip: I buy them when

Ultra Beauty

has a Liter Sales twice a year and use a Shampoo and Conditioner pump like this one to make it last longer.

- Body wash – As much as I like using handmade bar soap, due to the design of my guest bathroom shower, bar soap quickly dissolves into goo. I flip back and forth because most of the locally handmade bar soaps I like have non recyclable/compostable wrappers while shower gel bottles and caps are (Aveda stores and counters will take hard plastic caps if you don't have a local option like I do.) Budget Tip: A hanging shower dispenser like this one will contain clutter and make a bottle last longer.

This hanging dispenser

works with pump bottles you already have!
- Vinegar by the gallon – A plastic gallon jug lasts longer than the small glass bottle since I use a lot of vinegar for cleaning, cooking, and fall pickling. I've started saving a few of the empty jugs to hold my homemade hot process liquid soap experiments.

- Rug Shampoo by the gallon – I adopted a special needs dog and sadly will always need rug shampoo. She's also one of the reasons why I use so much vinegar for cleaning. Lacey is totally worth it!
- Ice Melt in mass quantities– Rock salt and ice melt dissipates in anything but a sealed plastic container in the off season. Budget Tip: You can stop this by storing the bag in a

plastic 5 gallon bucket like this one.
I decorated an old plastic prescription pill bottle with washi tape to use an ear bud case.
4. Using and reusing plastic food storage containers instead of plastic wrap, aluminum foil, and zipper baggies as much as possible to reduce food and trash waste.
It wasn't much of an eco friendly stretch because I hate how plastic wrap doesn't stick to anything but itself and the food dries out., and washing zipper bags to reuse is a pain (but I still did it.) For the longest time, the majority of those containers were repurposed plastic dairy free butter tubs, etc. and
Rubbermaid BPA plastic food storage containers like this one
that I still use. I upgraded to
glass Pryex food storage containers with lids like these
only after the majority of the plastic containers were too cracked and stained to use. Then they went into city recycling bin.
Tip: After getting pantry months (more than once) I started decanting food from its original bag and box into clear containers (mostly repurposed jars) and it reduced the amount in our trash/recycling bins (after the initial stick everything in a jar phase.) I did the project bit by bit as time and containers and time crossed my path. I'm not sure why. I still buy the same type of ingredient food and cook the same (mostly stir fry type meals.) I suppose it's because it helps with my family's out of sight out of mind disease. I can see what we I need to use before it spoils and what I already have on hand when making a grocery shopping list before leaving it on the kitchen table.
Tip #2: I keep Lacey's big bags of dog food fresh and pest free by using a plastic

pet food storage container like this one

.

I close the paper bag in the container with a

huge plastic pet food bag clip like this one

to keep it fresh. Then I use the empty bag for household trash. My city requires us to bag it.
I can just eat the entire bag of dog food for FREE plastic free food storage Lisa.
5. Many of my reusable shopping tote bags are freebies made from old plastic pop bottles.
Tip: It really helps cashiers in conventional stores not get passive aggressive with you if your shopping tote bags are the same size and shape. For that reason, I

ordered a bunch of reusable shopping tote bags from Dollar Tree here and got free shipping by picking them up at my local store

(bonus for not making extra trips to different Dollar Trees to find if they have what I saw on line.)
Tip #2: You CAN wash reusable polyester and plastic shopping bags in the washing machine as long as you wash them on warm or cold (not hot!) and do not put them in the dryer. I usually wash mine with a load of towels.
6. I use plastic insulated shopping bags when buying frozen meat and vegetables (in plastic bags I repurpose for pet waste) that also double for picnic coolers/beach drink bags for zero waste summer meals, parties, and road trips
. I use
these reusable plastic ice packs
to keep a disposable plastic bag of ice from melting and ruining everything in the cooler.
My husband often uses
this exact polyester insulated lunch bag
so he can workout during his lunch break and avoid trying to juggle that and cafeteria hours.
Tip: This is the easiest way to eat a healthy lunch away from home and on a budget!
7. Wash and reuse plastic party cups and silverware –
Technically they are disposable but you can wash and reuse them for the next time because you forget to buy reusables (raises hand.) If you compost (and there is no zero waste law that says you have to)
plastic paper plate holders like these
will allow you to offer cheap zero waste compostable plates to guests the stability of a foam plate that isn't.
8. My husband's plastic handle shaving brush, my plastic handle makeup brushes, plastic combs and all work, why create more trash replacing them with bamboo? Again, that's the exact opposite of Zero Waste!
Most of my other cleaning tools like a bottle brush (for coffee mugs, etc.) scrub brushes, and the toilet brushes are plastic and from the dollar store. They are still clean and useful so they stay.
Tip #2: You can repurpose old plastic toothbrushes for cleaning around faucets, etc. I run mine through the dishwasher first.
10. The 80/20 Rule and Private Recycling Programs for Non Mainstream Things
– My family defines the 80/20 Rule as if we can do it low waste/eco friendly 80 percent of the time, we won't freak out about the 20 percent of the time we can't such as being away from home, emergencies, or finding out the perfect green living solution doesn't work or can be modified to suit. Such as….
…Using the many local and national companies and organizations that will recycle non mainstream items that would otherwise hit the landfill such as Origins recycling empty makeup, health and beauty, tubes into new ones, Whole Foods having a Preserve #5 plastic recycling bin (pretty much the only time I step into the store, ) and a whole host on Terracycle that don't require an army of people to use to make it worth your while. It may not be a perfect solution (yell at me about it in the comments below) but it does help for those items that we can't or don't want to give up and move us more towards the 90/10 Rule than the the 80/20 Rule.
Did you enjoy this post? Get more like it by
subscribing to the Condo Blues RSS Feed
or to
Condo Blues by Email
.