During my
20% home energy reduction challenge
, I quickly found that one of the best ways to lower my utility bills was to change my household habits according to the seasons. Seriously, folks, all of the
energy efficient light bulbs
and
sealing of air leaks
in the world won't do much to p reduce your home's electric and natural gas use if you keep every light in the house blazing and set the furnace to the highest temperature all day every day.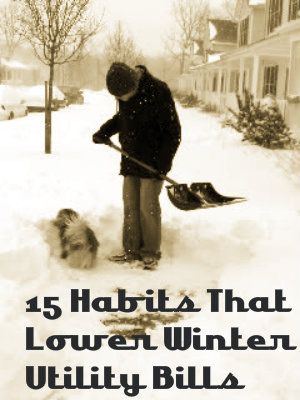 Here are some of the things I do that help me lower my winter electricity and natural gas usage and hopefully the bill (unless they raise my rates.) These habits will work also work for apartment dwellers and renters too.
15 Easy Ways to Lower Your Winter Heating Bill
1.
Put Extra blankets on the bed.
I put four extra blankets on our bed, so we won't have to turn up the electric blanket as high or at all. I like the cocoon of a ton of blankets around me, however other folks may feel like they're trapped and can't move under so many blankets so your mileage may vary.
2.
Use flannel sheets
. I use jersey sheets on my bed for fall and transition to flannel sheets when it really starts to get cold outside. Flannel sheets + fleece winter pajamas = cozy warm heaven. I'm so toasty warm you have to pry me out of me on cold winter's morning. If I could telecommute from my bed cocoon, I would.
3.
Dress in layers.
Dress accordingly during the day and wear warm nightwear at bedtime = Fleece pajamas! Fleece pajamas! Fleece pajamas!
4.
Lower the thermostat.
I installed a programmable thermostat with a preset program. My thermostat is set in the morning at 68 degrees (F), lowers to 58 degrees during the day, rises to 65 degrees for the evening, and lowers to 62 degrees at night when we sleep.
5.
Use free passive solar heat.
I raised the padded roman shade on the South facing windows of the house in winter and keep the door closed during the day to help heat up our bedroom with the pitched ceiling (which I thought was a great design element until that first winter when I realized that heat rises.) The passive solar heat warms the bedroom up just enough that we don't need to run a space heater to keep the room warm. I didn't expect this to work since Central Ohio has more overcast days than sunny days per year, but it did. Who knew?
6.
Shut doors to unoccupied rooms.
This keeps the heat in the room and not floating out into the colder hallway or into unheated utility room.
7.
Add moisture to the air.
Humid air feels warmer than dry air, caused by running the furnace. To add moisture to the air, I place bowls of water in front of the heat registers. I also start line-drying laundry on hangers in our second bathroom. I admit that line drying laundry is a bit of a pain, but it also saves me electricity (although I do use the dryer to fluff up stiff dry towels and jeans and to dewrinkle shirts.) But the real reason I do it is to keep static electricity down in The Condo so I don't get that look from Blitzkrieg after we've shocked each other that says, "Why did you do that? You promised me that no one would hurt me ever again!" Yes, out of love for my rescue dog, I put up with the extra work of line drying laundry during the winter. I have pollen allergies, which is why line drying is a seasonal activity for me. Your mileage may vary.
8.
Seal inside the windows.
The Condo has energy efficient double paned windows but they are still cold during the winter. To keep heat inside of the house I seal around the interior of my windows with removable rope caulk. (I couldn't find a clear pealable caulk at my home improvement store.) Rope caulk allows us to easily get out of the house via the windows in case of an emergency and I can reuse the caulk for the following year after I remove it from the windows for the summer. If you don't want to do rope or pealable caulk, you can buy plastic sheets that fit inside of the windows and block drafts. This isn't an option for me because the plastic won't seal properly because of the roller shade mechanism on my front windows.
9. Seal where windows and sliding glass doors meet. I made draft dodgers for the tops of our windows and where the sliding glass doors meet in the kitchen. I made them using leftover white material so they blend in with the white window trim and don't look too Mobile Home Disaster from the outside of The Condo. Sure, I could have used more rope caulk to seal this, but since I could only find gray rope caulk instead of white, it looked nasty from outside of the house.

10. Turn off the gas fireplace's pilot light when not in use. I don't use my gas fireplace very often because our natural gas furnace is more efficient at keeping The Condo warm. We only light it for ambience - usually when we have guests, or during a blackout for heat. I was amazed at how much natural gas I saved each month by just turning off the pilot light!

11. Cap outside faucets. I unscrewed and drained the garden hose from the outside faucet and put an insulated cap on it to keep cold air from leaking inside The Condo.

12. Use the one light per person per room rule. The Condo is chock full of energy efficient light bulbs, but we still use more electricity to light them during the winter since we have to turn them on earlier in the evening and run longer at night now that it gets darker earlier (Boo! Darn you Daylight savings time!) The one light per person per room rule is isn't always possible, for example as I write this both Husband and I are sitting in our office at our respective computers, with lamps lit for both task and ambient lighting. However, the rest of the unoccupied rooms of The Condo are dark. Previously I'd keep a light on downstairs or in the upstairs hallway even if all the family were upstairs in the computer room (which we frequently are – you don't think The Condo Blues Blogging Empire happens all by itself do you?) Once I changed this habit, I noticed a difference on my bill at no difference in the level of our home security, which is one of the reasons I had unoccupied room in The Condo lit up like Christmas in the first place.

13.Enjoy hot drinks. Hot coffee, tea, hot chocolate, warm milk with nutmeg and cinnamon, or if you're feeling festive, spiced apple cider, mulled wine or hot buttered rum are all yummy ways to warm up when it's cold outside.

14. Snuggle up with blankets or that special someone. Especially if that special, someone is a small double-coated dog who likes serious lap time in order to suck all of the heat from your body like Blitzkrieg.


15.
Limit the Christmas lights.
I like to keep our outdoor decorations simple and classic. Battery operated candles with light sensors in the windows, reusable boughs of holly, and a couple of strings of lights on the porch rails. Sorry, no Griswald Christmas light displays here (besides it's too cold to spend all of that time outside setting up such a huge light display!) I put our lights on timers and changed the time the lights are light to 6 hours a night instead of from dawn to dusk this worked when
lighting my outdoor Halloween decorations
, so I'm going to go with this at Christmas too. Eventually, I'd like to replace my current incandescent holiday lights with LED lights or even try solar outdoor Christmas lights. However, I'm not sure solar holiday lights would work in overcast Ohio since my solar garden lights only work during the summer months. As for lighting the Christmas tree, this year, like last year, we are following the Danish tradition (I'm a third generation Dane) of lighting the Christmas tree only on Christmas Day while we are opening presents, although we use electric lights instead of the traditional real candles. I'm too afraid of burning down The Condo to use real candles on the tree!
How do you prepare for those high winter utility bills?