It started innocently enough when I saw the gas bill on the kitchen table and opened the envelope. We used 108
CCF (centum cubic feet)
of natural gas last month for heating and hot water?! We're two people in a new build, 1500 square foot, freestanding condominium (looks like a house, acts like a condo.) We don't crank the heat up to tropical heat levels in winter or set the air conditioning to polar cold in summer. We have a programmable thermostat; surely, it is supposed to protect us from high heating bills?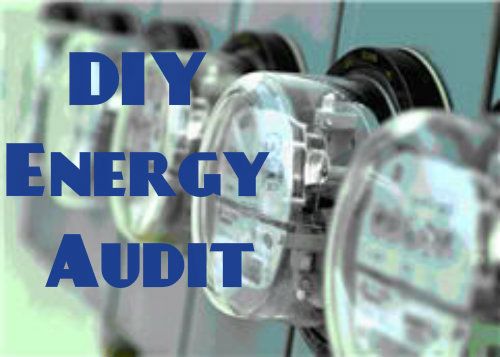 It's not as if we can't afford to pay the gas bill, we can. But honestly, if I'm going to pay for something that is in the hundreds of dollars I'd much rather buy a
Nelson bubble lamp
than something that's here today and gone tomorrow like heat. Yes, I know heating is important and that you can die without it during the winter. However I wanted to know what was going on with the higher utility bills when our home is supposed to be energy efficient. I decided to conduct a home energy audit.
Unlike some areas of the United States, my local gas and electric companies do not offer free home energy audits to their customers. After much digging on the customer unfriendly
Columbia Gas
Website, I found a link to the
Energy Star Website
that allowed me to conduct my own DIY home energy audit using their
Home Energy Yardstick
. Best of all this service is free. I like free. Free is good.
How to Do a Free Home Energy Audit
I entered the requested information about my home from the last 12 months of my natural gas and electric utility bills, clicked Submit and hoped for the best.
As I suspected, the news was disappointing. My home energy performance grade was Below Average with a score of 3.7 out of 10. Meaning that 37% of the homes in my demographic (geographical area, # of occupants, square footage, and year the home was built) use more energy than mine.
In addition to my home's energy performance grade the Energy Star calculator gave us the following goals:
· Improve our home's energy efficiency by 20%
· Improve our Home Energy & Environmental Performance Score from 3.7 to 6.3 by 2009
· Cut electricity use by 1.601
KWh (Kilowatt hours)
· Cut Natural Gas Use by 82
· Reduce emissions by 20% Funny. The calculator didn't ask me any questions about our cars, water, or trash/waste habits. Moreover, it didn't give me a score on what our home's emissions currently are, so how will I know if I have reduced them by 20% the next time I use the Web form?
· Save $237 on energy bills
Now this I like! It reminds me of the teacher who gives a failing student extra credit assignments to allow them to make a passing grade. I made the Energy Star recommendations my New Year's resolution. I put together a spreadsheet to track my progress. Feel free to use the full size version of my
spreadsheet
to track your own energy usage.
I will blog about my real life adventures in my Electricity and Gas Reduction Challenge throughout the year.
Looking for more home utility and energy audit ideas? Check out the following options - and more!- below!
Did you enjoy this post? Get more like it by
subscribing to the Condo Blues RSS Feed
or to
Condo Blues by Email
.