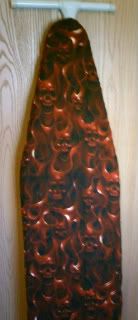 Here's how I made my ironing board cover.
1. Measure the existing ironing board cover and purchase that amount of fabric and padding.
I used some terrycloth I had in my fabric stash for padding.


If you're a creative recycler, you can sew a couple of old bath towels together and use that as your padding layer.
2. Use a seam ripper to take the old ironing board cover apart at the seams.
I had ended up with 2 pieces. The long part that sits on top of the ironing board and a short bottom piece that sits under the pointy part of the ironing board.
3. Use the two existing ironing board cover pieces as a pattern to cut out the pieces for the new cover.
I added a 1-inch boarder to my pattern as I cut out the pattern pieces for seams and the drawstring.
4. Bast the skull fabric (right side up) to the terrycloth padding on each pattern piece.
5. Pin the long piece and bottom piece right sides together and sew.
6. Press the seam (If I didn't, my Mom would find out, hunt me down, and smack me.) Turn the pieces right side out and press the seam (again see Mom note.)
7. Make a channel for the drawstring to go around your ironing board by folding over the fabric, pining it, and sewing it into place.
8. Feed a piece of cording through the channel with a safety pin.
I used the cord from my old ironing board cover. Again, creative recycling in action.


I added a couple of cording ties on the each bottom side of the ironing board cover to tie into place for added stability when I was ironing.
With the left over flaming skull fabric, I made matching draft dodgers for the laundry room doors. Fashionable energy efficiency.
If you'd rather buy than DIY, check out the following options - and more! - below!
Did you enjoy this post? Get more like it by subscribing to the Condo Blues RSS Feed or to Condo Blues by Email.