A fireplace wasn't a Must Have when Husband and I house shopped but I secretly hoped our first home would have a fireplace. We lucked out when we found our Condo. It has everything on our Must Have and Wish Lists including a fireplace.
I still like the fireplace but I'm falling out of love with the brass accents. I would
love
to use the brass as an excuse to buy a new brass free gas fireplace with a clear rock insert that makes it look like fire and ice when you light a fire.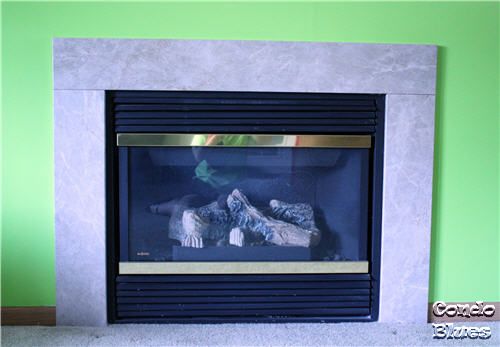 Fireplace Before
However, I can't justify the resources and expense it takes to replace a fireplace we rarely use. Angie of
Country Chic Cottage
and Cara of
Moore Craft Time
issued a Craft Lightening challenge – to make something that takes 15 minutes or less, excluding the drying time for paint or glue.
I looked at my
2012 DIY Goal List
and took them up on the challenge. It's time for a quick and easy fireplace update.
How to Paint a Gas Fireplace
Fireplace AFTER
Pin this idea to your Pinterest boards for later! Share it with your friends
You will need
Fireplace inserts
Sanding block
Black High Heat Enamel Spray Paint-
this is the exact high heat spray paint I used
Drop Cloth
- I'm linking to my favorite kind
Step by Step How to Do It Tutorial
1.
Remove the brass fireplace inserts from the fireplace. Mine popped off easily because they are held in place with magnets.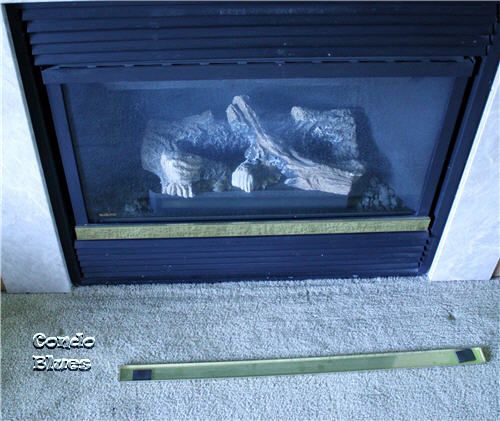 Bye bye brass!
2.
Rough up the brass insert with the sandpaper/sanding block. You don't need to sand all of the finish off the insert. The goal is to rough up the shiny metal coating enough so the spray paint will stick to the insert.
Sand, Sand. Scuff, Scuff.
3.
Use the high heat spray paint to paint the fireplace inserts. You need to use a spray paint made to withstand the high heat of the fireplace or the new paint job will eventually bubble and flake off the painted inserts. I bought
my favorite brand of black high heat spray paint here
because I used it to spiff up a past its prime BBQ grill and the paint job held up to many summers of high heat grilling.
TIP:
To prevent paint bubbles and runs do several light coats of paint instead of one heavy coat of paint.
4.
While I waited for the inserts to dry, I removed and cleaned glass from the fireplace. I cleaned both side of the glass with vinegar, my favorite green cleaner and multitasker. Using vinegar and a microfiber cloth means I don't have to worry about what would happen if I light the fireplace after using a flammable conventional cleaner on the glass. I suspect a fireball of WOOOOOOOSH!
5.
I put the clean glass on the fireplace and snapped the black inserts into place.
I like the monochromatic fireplace much better. A modern look in 15 minutes for the cost of a can of spray paint. Love that!
Check out what my crafty friends did with their 15 Minutes.
Did you enjoy this post? Get more like it by
subscribing to the Condo Blues RSS Feed
or to
Condo Blues by Email
.