I am allergic to anything green. Spending a lot of time digging in a garden guarantees me a welt-covered body. So when we found out that The Condo came with "low maintenance landscaping" I was all for condo living!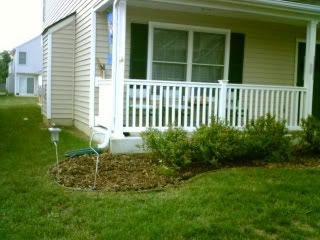 Unfortunately, within two years of owning The Condo three of the seven low maintenance bushes that came new with The Condo were dead.
By late summer 2007 the flowerbeds in front of The Condo were looking sad. Something had to be done. I grabbed a shovel and started poking around in the dirt. Guess what I found in the roots of the remaining bushes?
Grub eggs.
I was ticked.


Turns out the Lawn people were (and still are) too lazy to clean their mowers after each job. Therefore, they spread weeds and grubs all over the neighborhood like Christmas presents. This was one little free gift with purchase I could clearly do without.
There had to another legal and preferably natural way to deal with my grub problem. I dont want to keep adding chemical grub killers to the lawn and garden because I don't want Blitzkrieg or the dogs next door to possibly ingest chemical pesticides. I forget to reapply chemicals after rainstorms. Fix it right the first time and ignore it is my gardening motto. I'm a lazy gardener, remember?
Ground Tactics
1. It was too late in the summer to put down
beneficial nematodes
in the garden. Nematodes, spread through the garden soil. The good bug nematodes do battle and kill the bad bugs and grubs. Cool, huh? (
Disclosure: I am including affiliate links to the products I used for your convenience.
)
2. I was too impatient to order and wait for
Milky Spore
to arrive.
Updated: It was a mistake not to use the Milky Spore in my garden and yard. I still had problems and eventually used Milk Spore in my garden and yard. It is the ONLY thing that killed the grubs and saved everything. Milky Spore works a lot like nematodes but unlike the nematodes, Milky Spore lasts more than one season.
3. Unfortunately, chemical pesticides were my only option. So in a last ditch effort to save the four remaining bushes, I dug each one up, scraped the grub eggs off the roots of each bush with a hand rake and dosed the roots with a chemical grub killer (I made sure all neighboring dogs were inside of their respected homes before I pulled out the chemicals.) and replanted each bush with a heaping helping of cedar mulch chips in each bushes new planting hole. I worked the current layer of cedar mulch into the top soil because cedar is supposed to repeal grubs.
Updated: Doing #3 was a HUGE mistake! It reintroduced grubs into my lawn and garden. I eventually had to remove the infected plants and let the soil in the garden do dormant for a year and not plant anything. Don't be me, remove the grub infected plants from your yard.
I also worked my first batch of compost into the nasty clay soil of my flowerbeds.
4. Next, I selected and planted flowers that are supposed to be grub resistant:
On top of that, I added a fresh layer of cedar mulch, which resulted in the following: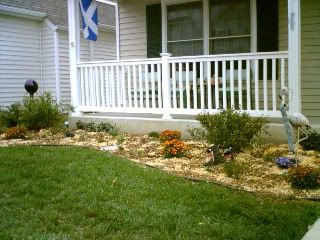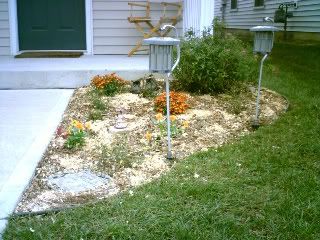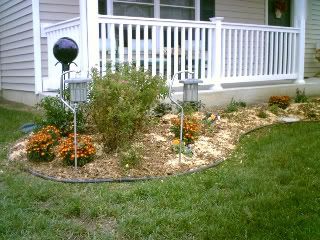 The cost for this project was between $50 - $80. I saved money by using the living plants, mulch, compost, and grub pesticide I already had on hand and by replacing the dead bushes with flowering plants. Not too bad for a beginner. What do you think?
Looking for more garden grub killing ideas? Check out the following options - and more!- below!