In Central Ohio Mother's Day is the unofficial frost date. Plant anything before Mother's Day and an April frost or two or three will most surely kill it. Plant after Mother's Day and your plants should live.
Mother's Day is several weeks away and after looking at this
dirt patch
for the last 6 months or so, I've been jonesing for some flowers.
I don't want to spend a lot of time or cash on spring flowers because I'm going to turn the dirt patch into a raised garden bed. Any spring flowers I plant now will soon be sacrificed when we rent the jackhammer (yes, I said jackhammer -yahoo!) and start chipping away at the cement in the garden bed. What's a gal to do?
I found my answer when I was rooting around in the napkin drawer the other day. I found a packet of wildflower seeds from an Earth Day event.
Free wildflowers? Yeah, I can do that!
I planted the seeds in this painted terra cotta pot. A friend painted this pot for me with outdoor paints and gave it to me as a Christmas present along with some books on herbs. Isn't she talented?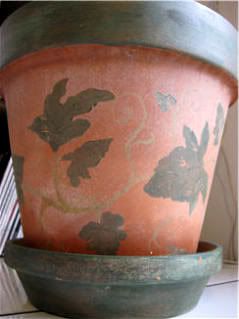 My dirt looked a little spent.
I didn't have any compost quite ready to go yet so I made another natural houseplant fertilizer. I mixed coffee grounds and crushed eggshells in a bowl and sprinkled them on top of the dirt. The coffee grounds add nitrogen to the soil. The eggshells add calcium to the soil. You can use either item or both on your houseplants. This is a good solution if you have potted plants or a garden and don't have the room for a formal compost pile or
giant worm bin
.

I watered everything and put the pot on the patio in sun for the day. In the evening I bring the pot inside to keep it from freezing.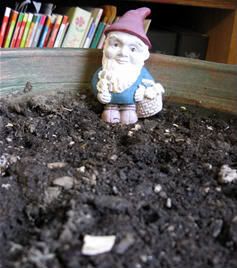 As a finishing touch, I added a small garden gnome to the pot because every garden needs at least one tacky lawn ornament, err, architectural focal point, right?