Beltane marks spring
jesters dance round May Pole ribbons
flower baskets bloom
May Day makes me feel nostalgic. Not for the
coffee filter flowers
I made for May Day baskets when I was a child but for the May Pole dances and brightly colored clothes of
Beltane
. My inner child loves Beltane. Why? Because once upon a time I was a professional jester.
Need Proof?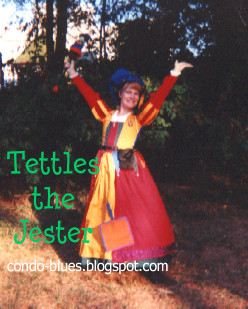 I designed and drafted the pattern for my favorite jester costume, hat, and props. I appliqued blue ribbon in a Celtic knot pattern at the bottom of the top skirt. The top skirt are overlapping panels that fly straight out when I turn.
I always sewed. In fact, my first sewing project was a pair of potholders for my kindergarten teacher. Therefore, it was no surprise after visiting the
Ohio Renaissance Festival
one summer, I had friends asking me to make them period costumes to wear to the faire the following year. No problem. However, I figured if I was going to all that trouble, I might as well audition for the cast and wear the costume more than once. I got much more than I bargain for.
In my eight years with the show, learned more about period clothing construction than normal people should be allowed. I researched and built from the skin out jester clothes, peasant clothes, 16th century Russian noble clothes, and eventually English noble clothes.
Eventually Husband and I were cast as the Lord Mayor and Lady Mayoress of the village. I designed and built everything from the hats on down and from the skin out with the exception of our leather gloves, shoes, my shawl (a gift from mother in law), and my vintage muff. Yes, I did the beading on the outer garments and hand embroidery on the shirts too.
I learned how to alter commercial patterns. I learned to hand draft patterns when I couldn't find or alter a commercial sewing pattern. I also learned that upholstery fabric makes for historically accurate, and for very hot, clothing. I built costumes with upholstery fabric so often that it eventually seemed weird for me to use upholstery fabric for its intended purpose.
An actual conversation I had with another Renaissance festival friend and costumer:
Me:
I started sewing for the house. I made a slipcover for Husband's ugly bachelor sofa.
Fellow Costumer:
Looks great! What type of fabric is that?
Me:
Upholstery fabric. It's not just for farthingales anymore!
Do you know that you can use upholstery fabric on furniture?
Fellow Costumer (shocked):
You can do that?!
My Rennie days also taught me how to stretch my creative muscles and look at mundane objects in a new ways. I mean, it's not as if I could walk into Jesters R Us and ask them for period jester's stick, could I? I had to learn how to creatively recycle the stuff I had into the clothing and props I needed*.
So, I'm going to celebrate the darling buds of May by getting back to my Beltane roots. I'm going to don the jester clothes and meet friends at the OSU Medieval and Renaissance Festival this weekend. What are you going to do to celebrate the warm days of May?
*In case you're wondering, over the years I made a small army of period jester's sticks by hot gluing a plastic baby doll head to a kid's baton and covered the whole thing in paper mache, ribbon, and fabric. Then I clear coated the thing to death to withstand the outdoor elements and named it Pettles.
If you are looking for more May Day and Beltane ideas check out the following options - and more! - below!
Did you enjoy this post? Get more like it by subscribing to the Condo Blues RSS Feed or to Condo Blues by Email.